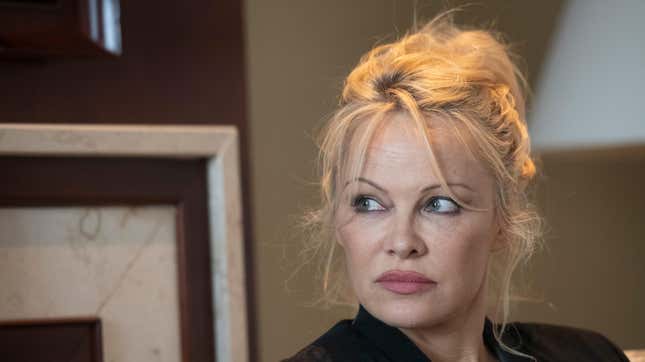 Ahead of her highly-anticipated documentary, Pamela, a love story, premiering on Netflix later this month, Pamela Anderson is reflecting on the leak of the infamous private tape she made with ex-husband, Tommy Lee.
Jennifer Hudson Achieves EGOT Status, is True American Idol
"We were two crazy naked people in love," she tells CBS Sunday Morning host Jim Axelrod in an exclusive interview set to air this Sunday. "I mean, we were naked all the time and filming each other and being silly."
Unless you've spent the better part of the last year ignoring The Discourse™, you likely know Anderson's latest comments have particular resonance in the wake of controversial Hulu miniseries, Pam & Tommy, a dramatized—bordering on erroneous—retelling of how a publicized couple became all the more exposed (without their consent) when a personal tape became public tabloid fodder, thanks to a robbery. The series was, in essence, an exploitation of an exploitation. Anderson, notably, was not consulted at any point in its production.
Upon its release, Anderson was reportedly "horrified," per her friends. Now, she's providing more detail about how she personally suffered upon the tape's distribution and even suffered suicidal ideations.
"I was a mother. That saved me," Anderson, who shares sons, Brandon and Dylan with Lee, reveals in the tell-all. "You know, if I wasn't a mom, I don't think I would've survived," she continued.
Anderson also tells Axelrod that to this day, she has yet to see the footage, and that the invasion of privacy and "stolen property" was "very hurtful."
Later this month, Love, Pamela, which promises to be an "intimate and humanizing portrait of one of the world's most famous blonde bombshells," will premiere on Netflix, and per its scintillating trailer, Anderson will further detail the irrevocable impact the tape's leak had on her life—both personal and professional.
"I blocked that stolen tape out of my life in order to survive," she recalls as nineties-era paparazzi footage flashes on screen. "I don't think people consider her the owner of her own image," and unidentified voice comments. "It's Pamela Anderson, public property."
"She gave us carte blanche to use the archival [footage for] how we thought best told the story," said the documentary's director Ryan White in a recent interview with People. "It's a sign of how authentically Pamela has lived her life. She owns every part of her life—the good, the bad and the ugly. It's an incredibly vulnerable but brave way to live."
Along with White, Anderson's eldest son Brandon helmed the production of the documentary, and Anderson herself reportedly had significant input.
"I wanna take control of the narrative for the first time," she says in the new trailer. Though its long overdue, I'm been ready for the Pam-aissance.