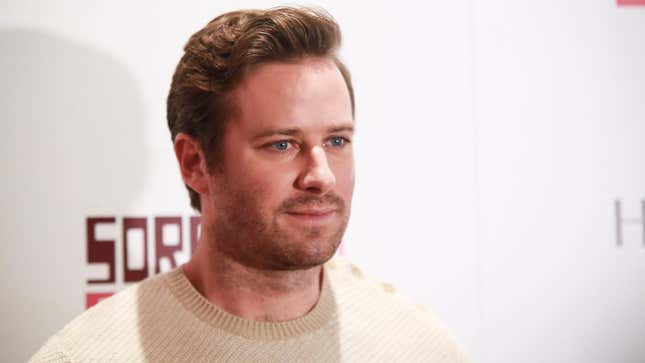 Armie Hammer won't face criminal charges following an investigation into a sexual assault allegation against him, the Los Angeles district attorney's office announced on Wednesday. A spokesperson told CNN that after "an extremely thorough review," prosecutors found "there is insufficient evidence to charge Mr. Hammer with a crime."
Police first opened the investigation in February 2021, when a woman identified as Effie Angelova shared her story after creating an Instagram account that shared other women's allegations of emotional and physical abuse perpetrated by Hammer. Angelova accused Hammer of "violently" raping her for four hours in April 2017.
In a statement on Wednesday, Angelova told CNN that she was "disappointed" in the district attorney's decision. She added: "I felt a duty to speak out and file a report in order to try to hold Armie accountable for all the harm and trauma he has caused me and in order to protect other women from experiencing similar abuse."
Hammer shared his own statement via Instagram, expressing gratitude to law enforcement. "I am very grateful to the District Attorney for conducting a thorough investigation and coming to the conclusion that I have stood by this entire time, that no crime was committed," he wrote. "I look forward to beginning what will be a long, difficult process of putting my life back together now that my name is cleared."
Attorneys for Hammer long maintained that the allegation by Angelova was "outrageous," and the encounter had been "completely consensual, discussed and agreed upon in advance, and mutually participatory."
As of Wednesday afternoon, numerous celebrities liked his self-congratulatory Instagram post, including Bear Grylls, Savannah Chrisley, Nyle DiMarco, and artists Zander Bleck and Tyler Ramsey, journalist Kelsey Weekman found. It's reminiscent of the jarring outpouring of celebrity support Johnny Depp received on Instagram after winning his defamation trial in 2022.
In February, Hammer gave his first interview in years in which he revealed he'd experienced child sexual abuse and claimed the allegations against him almost pushed him to commit suicide by walking into the ocean. Angelova, at the time, called Hammer's commentsa "manipulative," because "he knows his ocean story shut me up last time and evoked sympathy, and it's like now he's trying it again."
That same month, Hammer faced allegations from a new woman who claimed he'd choked her to the point of losing consciousness in the summer of 2022. The woman, who told Rolling Stone that Hammer's "violent behavior" worsened over the course of their relationship, was granted a temporary restraining order against Hammer. But a judge ultimately dismissed her case against Hammer when neither she nor the actor showed up in court for a hearing.