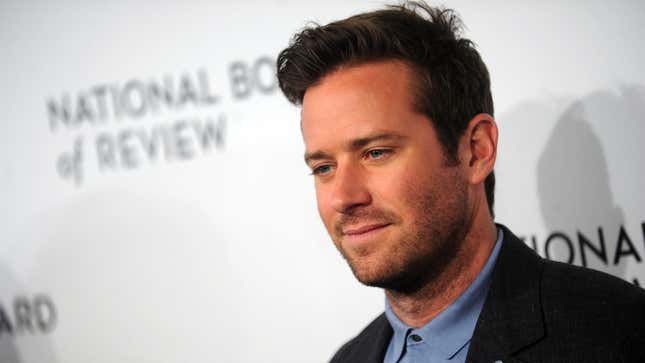 It's been two years since Armie Hammer was accused by multiple women of rape and physical and emotional abuse, precipitating one of Hollywood's most abrupt—and deeply unsettling—falls from grace. Now, in an exclusive interview with AirMail, the disgraced actor is attempting to "set the record straight" on why he did what he did and how his life has looked since the allegations broke.
"I just walked out into the ocean and swam out as far as I could and hoped that either I drowned, or was hit by a boat, or eaten by a shark," Hammer said, recalling experiencing suicidal ideations in the Caymans. "Then I realized that my kids were still on shore, and that I couldn't do that to my kids."
Hammed claims in the bombshell interview that his youth pastor sexually abused him as a kid, and his own resulting trauma—from the abuse and from not being believed when he told his family the man made him uncomfortable—begat the trauma he's inflicted upon others. "What that did for me was it introduced sexuality into my life in a way that it was completely out of my control," he explains. "I was powerless in the situation. I had no agency in the situation. Sexuality was introduced to me in a scary way where I had no control. My interests then went to: I want to have control in the situation, sexually."
"I'm here to own my mistakes, take accountability for the fact that I was an asshole, that I was selfish, that I used people to make me feel better, and when I was done, moved on," Hammer states. "And treated people more poorly than they should have been treated."

Notably, Hammer does not at any point in this interview acknowledge that some of the sexual encounters he's referring to occurred without the women's consent. He continues to deny any allegations of rape—as he has since the allegations were made public in 2020—but he admits that he treated his accusers wrongfully.
"I had a very intense and extreme lifestyle," he explains, "and I would scoop up these women, bring them into it—into this whirlwind of travel and sex and drugs and big emotions flying around—and then as soon as I was done, I'd just drop them off and move on to the next woman, leaving that woman feeling abandoned or used." Asked whether he was emotionally abusive to his multiple accusers, Hammer responds: "One million percent."
Of the alleged sexual abuse his accusers detailed—rape, mutilation, and cannibalistic kinks—Hammer largely reduces their claims to an "imbalance of power." When asked specifically about two ex-girlfriends, Courtney Vucekovich and Paige Lorenze—both of whom have publicly claimed Hammer was sexually abusive—he cites only the power imbalance.
"I would have these younger women in their mid-20s, and I'm in my 30s," he says. "I was a successful actor at the time. They could have been happy to just be with me and would have said yes to things that maybe they wouldn't have said yes to on their own. That's an imbalance of power in the situation." Vucekovich and Lorenze both declined to comment on the record to AirMail.
Some of the most damning allegations against Hammer, however, were waged by a woman known as Effie (Efrosina Angelova), who accused him of violently raping her over the course of four hours and repeatedly banging her head against a wall, leaving her with a bruised face. Her claims led to an LAPD investigation, and she retained the representation of Gloria Allred for a while before they parted ways in September.
Of his involvement with Effie, Hammer bizarrely likens his behavior and his choice to begin an affair with her to a "slip" of a "beach ball":
"Human behavior is like a beach ball," he explains. "Your beach ball is who you are. It's how much you like to drink, how much you like to smoke, how much you like to have sex, how much you need to sleep at night.""And you can take your beach ball and push it underwater and hold it there," he says, "either for a religious institution or for another person or for whatever, and you can hold that beach ball down there for a while. But eventually that beach ball is going to slip. And that beach ball does not gently rise to the surface. It shoots way up in the air." When Effie told him that she used to work in a sex club, Hammer says, "my beach ball slipped, and it just shot way up into the air. It probably wasn't a week later that I had been messaging [her] a lot, like throughout the day, and it got extremely explicit."
AirMail chose to publish previously unreported DMs between her and Hammer's ex-wife, Elizabeth Chambers. In one exchange Effie tells Chambers that she "chased" Hammer, though she knew he was married. In another, dated just two days before going public with her initial accusations, Effie told a follower on Instagram that sex with Hammer was "consensual," that he was "such an amazing Daddy," and that he "is not dangerous. He didn't rape anyone." Another follower inquired whether she had "legal representation," to which screenshots show she replied, "I'm not saying he raped me, no need for legal rep."
While Chambers, who filed for divorce in 2020, did not provide comment to AirMail, more screenshots of messages she's allegedly sent to Effie appear in the story: "I really need custody of my precious children. Do you think you could make a declaration this week? It will all be private."
"He's hurting ppl here. Needs to be locked up," Chambers wrote. Of course, such presentation of their correspondence is framed in a way that suggests the women were conspiring against Hammer.
The story largely continues this way, stating that Hammer is now a sober companion to a recovering addict who's just been released from rehab. "I'm going to move in with him and live with him, get him on a healthy routine, get him into a good schedule of [recovery] meetings, take him to the gym, cook healthy food for him," he says. Meanwhile, he's not pursuing any defamation or libel suit against Effie—nor any of his accusers—and has "no interest in retribution."
Finally, as many high-profile men accused of sexual assault or abuse tend to do, Hammer offers a condemnation of cancel culture:

"No one will hire me. No one will insure me. I can't get bonded for a project—nothing," he says. "And no one will touch me because if they hire me, then they are the people who support abusers. And then they're liable to get canceled themselves because this fire that is burning itself through town—when they throw someone like me on the fire to protect themselves, what they don't realize is happening is all they're doing is making the fire bigger. And that fire is now out of control and it's going to burn everyone. And they're just continually throwing people on it as sacrifices to protect themselves."