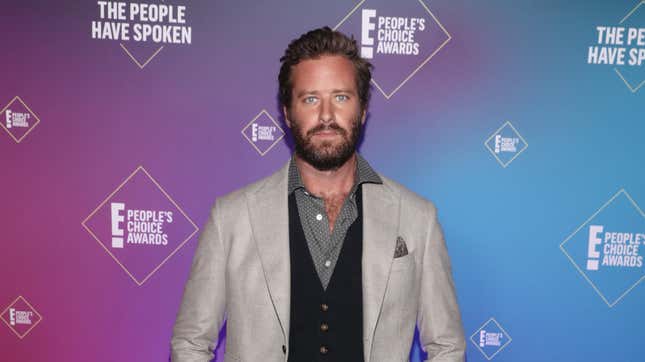 Update, 4:40 p.m.: Per Rolling Stone's Cheyenne Roundtree, a judge has dismissed the case after the woman alleging Hammer choked her didn't appear at the court hearing today, nor did the actor.
Previously:
Just weeks after Armie Hammer said all of his sexual encounters he's had have been consensual in an exclusive tell-all with Airmail, the besmirched actor is facing a new sexual misconduct allegation, Rolling Stone reports.
A 26-year-old woman alleges that Hammer disregarded their agreed-upon safe word during sexual intercourse and choked her to the point of losing consciousness in the summer of 2022. Earlier this month, the unnamed woman was granted a temporary restraining order against Hammer, according to RS; she's now seeking to make it permanent after Hammer attempted to contact her at the end of January.
"I would like for the contact to stop," the woman wrote in her application for the permanent restraining order. Should Hammer or a legal representative ignore the court summons and fail to appear on Wednesday, he risks arrest, and the temporary restraining order will be made permanent.
G/O Media may get a commission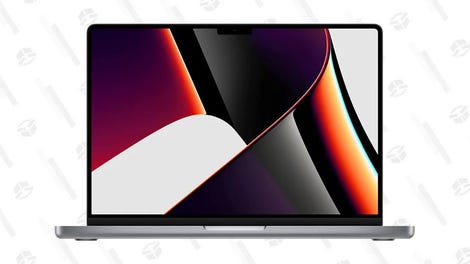 Save $300
2021 14" 1TB MacBook Pro
Hammer's attorney denied the allegations as well as Rolling Stone's report that Hammer was summoned to court on Wednesday. "Armie does not know this person, has never heard of this person, and was in Los Angeles on the day when the alleged incident supposedly occurred in New York City," Andrew Brettler wrote to Jezebel in an email. "We have photographs of him in L.A. on the date in question (since filing her action, the accuser has changed the date of the alleged incident claiming she made a mistake. We have photos of Armie in L.A. on the new date too.)."
"Armie hasn't even been served with court papers," his lawyer continued, noting that he expects the woman's claims to be "thrown out of court."
Per Rolling Stone, the woman alleges that Hammer's "violent behavior" worsened at the time they were seeing each other, but the one particular incident in which he choked her unconscious despite her repeated pleas to stop was the first instance she recalled feeling unsafe. "This was the first time where I had felt that it went entirely too far because I begged for him to stop and deployed our safe word and tapped him on his shoulder." Hammer, she said, was using alcohol, ecstasy, and ketamine at the time.
It's not clear how long she maintained contact with Hammer, but the woman alleges that they had a consensual sexual relationship and practiced safe words in the event that their encounter became uncomfortable.
In the interview with AirMail, Hammer didn't acknowledge that the sexual encounters with any fellow public accusers—Efrosina "Effie" Angelova, Courtney Vucekovich, and Paige Lorenze—occurred without the women's consent. He also continued to deny any allegations of rape, instead, only taking accountability for treating his accusers poorly. "I would have these younger women in their mid-20s, and I'm in my 30s," he says. "I was a successful actor at the time. They could have been happy to just be with me and would have said yes to things that maybe they wouldn't have said yes to on their own. That's an imbalance of power in the situation."
Hammer also claimed the range of allegations—rape, mutilation, and cannibalistic kinks—waged against him since 2020 and their fallout have prompted suicidal ideations. "I just walked out into the ocean and swam out as far as I could and hoped that either I drowned, or was hit by a boat, or eaten by a shark," he said. Angelova has since expressed doubt that he was telling the truth.
"It seems so manipulative, because he knows his ocean story shut me up last time and evoked sympathy, and it's like now he's trying it again," she recently said in an Instagram story.