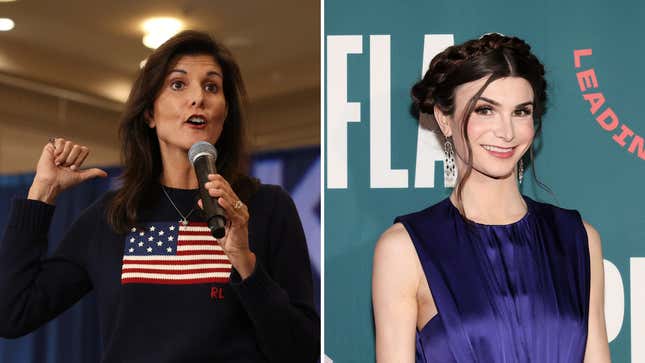 Republicans have nothing substantive to offer voters, and they keep making that fact clear by attacking one particular transgender woman. At a Wednesday town hall in Bedford, New Hamsphire, Republican presidential candidate and former South Carolina Gov. Nikki Haley misgendered actress and influencer Dylan Mulvaney, according to audio obtained by Jezebel.
Samantha Bee's New Show Will Hopefully Teach Nikki Haley 'Something About Her Body'
If you're not up to date on the latest pathetic and cruel distraction from the party's desire to ban abortion nationwide, conservatives lost their minds because Bud Light sent Mulvaney some beer cans with her face on them—a product not actually for sale anywhere—which she posted on Instagram. But this fact didn't stop Haley from implying that that single piece of sponsored content is a scourge on society.
Here are Haley's transphobic remarks:
Have any of you all seen Dylan Mulvaney? You know who that is? On the beer cans? Let me tell you something. I know that there are transgender people out there—that is not a transgender person. That is a guy dressing up like a girl, making fun of women. [inaudible]. We don't act like that. Yet companies are glorifying him. And then we're supposed to tell our girls, 'Be strong and be confident?' What are we doing?
Before Haley launched into the attack on Mulvaney, she called transgender girls participating in school sports "the women's right's issue of our time," so, no, I don't believe that Haley actually recognizes the existence of any transgender person, and it's alarming that she's trying to act as the arbiter of who is really trans.
The town hall came two days after Haley flat-out lied in a speech, claiming that "no Republican president will have the ability to ban abortion nationwide" through legislation. (Haley seems to be splitting hairs on the differences between banning abortion at 15 weeks, six weeks, or fertilization.) The next GOP president can absolutely ban abortion using any number of anti-democratic tricks, including lawsuits.
But given that a federal abortion ban is an extremely unpopular position, it's no surprise that Haley is lying about that and resorting to attacking trans people. She can get headlines from credulous media about allegedly being "moderate" on abortion (she's not) while still riling up conservative voters who think trans people shouldn't exist.
Earlier this week, Arkansas Gov. Sarah Huckabee Sanders (R) tried and failed to dunk on Bud Light for partnering with Mulvaney. And now Maybelline is facing calls to boycott the brand because Mulvaney did one (1) sponsored post using the company's concealer back in March.
These shameless people need to get a fucking grip.