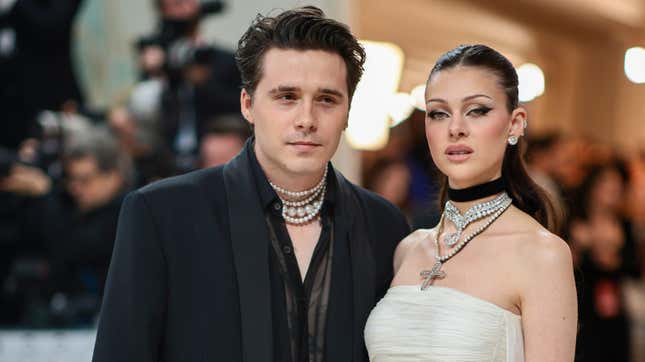 At long last, justice has been served in the Nicola Peltz-Brooklyn Beckham wedding lawsuits. After nearly six months of the kind of litigious back and forth that can only be afforded by the deep-pocketed, both parties—the Peltz-Beckham family and their former wedding planners, Plan Design Events (PDE)—have agreed to let bygones and bun-less burgers be bygones. Bless!
"The parties believe that this contract dispute between Nelson Peltz and Plan Design should be resolved on the terms agreed," a joint statement published by People reads. "As part of the settlement, PDE will make a donation in the name of Nicola and Brooklyn to the CARE Ukraine Crisis Fund. PDE wishes Nicola and Brooklyn Peltz Beckham happiness and a fruitful life together." In the end, everyone—even war-torn Ukraine—is victorious all because some sanctimonious billionaire stopped bleating about a lost $159,000 deposit. See? Love really does win.
In case you've purged the Peltz-Beckham lawsuits from memory, the legal woes began shortly after the couple's gallingly lavish nuptials—which I'll once again point out took place a week after hundreds of migrant workers protested Papa Peltz for ignoring a host of human rights violations. The businessman swiftly sued PDE, the second out of three wedding planners his daughter hired, claiming they hadn't fulfilled contractual obligations. It should be noted that the women behind PDE, Nicole Braghin and Arianna Grijalba, were hired just six weeks ahead of the event and were let go after nine days.
"The celebrity of the wedding couple combined with the anticipated attendance of many high-profile guests required that the wedding planner have the expertise and staffing to plan, coordinate and execute a wedding event of the expected caliber and complexity," Peltz's lawyers alleged in the lawsuit.
In response, Braghin and Grijalba countersued, citing breach of contract. With that filing, an onslaught of delicious texts between them and Nicola, her mom Claudia Peltz, and Beckham were then made public. Among Beckham's brilliant suggestion that gendered burgers should be served at the reception, were some exchanges in which his blushing bride-to-be sounded, well, like the daughter of an evil billionaire. I do, however, respect her insistence that Florida Governor, Ron Desantis, shouldn't be invited. I mean, can you imagine trying to do the Cupid Shuffle next to that guy???
"Very important those certain politicians are NOT on the list," Peltz asserted in a text message with her wedding planners in February 2022. A few days later at 1:09 a.m., court documents show she followed up with: "desantis must be OFF THE GUEST LIST. PLEASE CONFIRM!!"

Though the dispute between the Peltzs and Braghin and Grijalba intensified for a time—the counterclaims didn't stop coming—the family still managed to spend a swath of the summer on a mega yacht. In fairness, I get it. They were stressed! Brooklyn hasn't even cooked anything atrocious for three months!
Anyway, I'm just relieved all of this got settled and my favorite amateur chef, photographer, stylist, and adult can get back in the kitchen. Maybe when Peltz and Beckham make their throuple with Selena Gomez official, they'll give Braghin and Grijalba another chance to get it right.
---