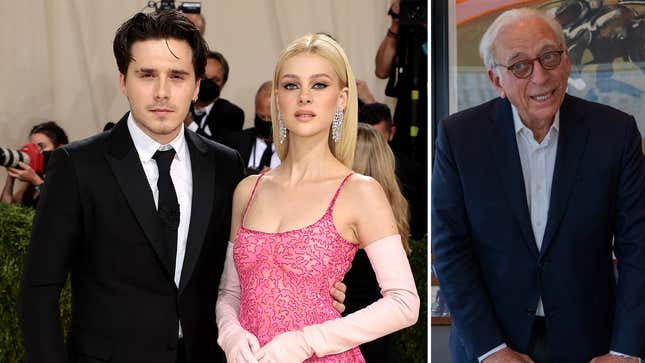 The recommended gift for a couple's first anniversary is "paper." Given the mounting lawsuits being passed back and forth between the Peltz family and their former wedding planners as we fast approach the one-year mark of Brooklyn Beckham and Nicola Peltz's wedding, how fitting! Papers are certainly being served!
Here's a quick rundown of the lawsuits between billionaire Nelson Peltz, Nicola's dad, and Beckham and Nicola's former wedding planners, Nicole Braghin and Arianna Grijalba of Plan Design Events. The mega-rich businessman had sued PDE, the second out of three wedding planners his daughter hired, claiming they had not followed through on contractual obligations. He wanted a return of his $159,000 deposit. Braghin and Grijalba then countersued, citing breach of contract, and in doing so a lot of texts between them and Nicola, her mom Claudia Peltz, and Beckham were made public.
I would be remiss not to point out that Beckham chimed in on the wedding planning text thread a total of three times, once with the brilliant suggestion of having a burger to serve to girls and a burger to serve to boys. Needless to say, the wretched media (Jezebel included) had a field day scanning the texts and pulling out details like the ingenious burger suggestion and Nicola insisting Ron DeSantis not be on the guest list. Papa Peltz was not pleased.
On Thursday morning, new papers were filed to remove Claudia and Nicola from PDE's countersuit, claiming that because they were not part of the initial contractual agreement (this was all on Papa Peltz's dime), their inclusion was "meritless" and "salacious." Vanity Fair obtained the latest filing, seen below.
"In a desperate effort to distract from their own failure to accomplish anything of substance in the short time they purported to act as replacement wedding planners pursuant to an alleged written agreement with Mr. Peltz, and only Mr. Peltz, Defendant PDE filed a salacious, meritless, and legally deficient third-party complaint against Mr. Peltz's daughter, Nicola, and wife, Claudia.… Aware that its claim is frivolous, PDE shamefully attempts to falsely portray Nicola in an extremely negative light to entice the media and hopefully pressure Mr. Peltz to dismiss his well-founded claims against PDE."
It continued: "While this was tailor-made for the tabloids, it could not be further from the truth."
Papa Peltz is correct in that the media has indeed been enticed. Though, I would argue that his initial lawsuit was so petty and unnecessary it was what brought needless attention to this whole ordeal in the first place. He is reportedly worth well over $1 billion. Do you know how much $159,000 is comparably? Less than one tenth of one percent of his net worth. That seems like someone trying to stir up some more drama!
---