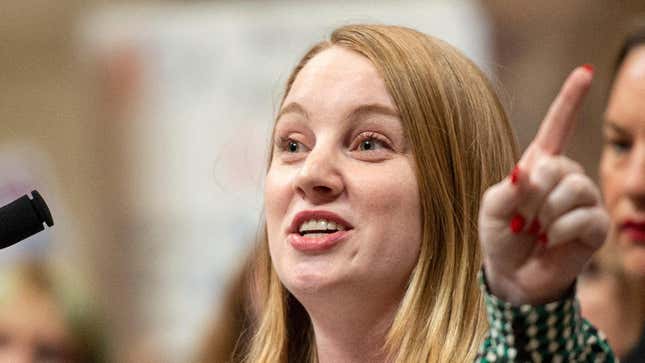 An Omaha lawyer has filed an ethics complaint against Nebraska State Sen. Megan Hunt (D), accusing her of financially benefiting from her own filibuster of the state's anti-trans bill because she has a trans son.
The Filibuster is Standing in the Way of Abortion Access
Omaha lawyer David Begley filed a complaint with the Nebraska Accountability and Disclosure Office, Hunt announced from the legislative floor on Wednesday (to a few groans). "I am being formally investigated because of a complaint that I have a conflict of interest on LB574 because I have a trans child," Hunt said, referencing the state bill that would prohibit gender-affirming healthcare for minors. "This, colleagues, is not serious. This is harassment."
Begley's complaint because Sen. Hunt's child would need medical services to "fully transition," she has a personal stake in tanking a bill prohibiting gender-affirming care for minors.
As the Nebraska Examiner explains it:
Begley's complaint contends that Hunt has a stake in LB 574, arguing that "in order to fully transition, Senator Hunt's child would need medical services." Hunt and doctors who provide gender-affirming services have said, however, this is untrue.

She has stated on the legislative floor she tried multiple times to obtain Medicaid coverage for her son's care. Begley wrote that Hunt has "a slightly more than average chance" of obtaining that coverage via a lawsuit if LB 574 is defeated.
Of course, Medicaid hasn't covered gender-affirming healthcare since 1990 in Nebraska. The idea that Hunt supports trans Nebraskans—which include her son—because she's a decent person who supports human rights apparently didn't factor into this ethics complaint.
"This is using the legal system that we have in our state to stop corruption, to increase transparency, and to hold governments accountable and instead use it to harass a member of the Legislature who you all know is trying to do the right thing," Hunt said. "Is trying to parent her child in a way that keeps that child alive. In a way that keeps that child successful in school and with friends and healthy. In a way that child would potentially have a future in this state as well."
Fellow state lawmakers spoke in support of Hunt, including state Sen. Wendy DeBoer (D), who carried Begley's logic to, well, a logical place. "Every time we have a tax bill, I'm a taxpayer. So I may be involved in that every time. We have a bill that involves families, well, I have a family. So I may be involved. Every time we have a bill on basically anything in here, I'm involved because I care about my state. I care about the people in my state, and I'm involved with them, just like Senator Hunt is," DeBoer said.
Four state senators have filed potential conflict of interest statements with the state this year about bills concerning the minimum wage, hydrogen hubs, ethanol and telehealth. Begley contends Hunt should have filed one about her son before helping to lead the filibuster against the anti-trans bill with State Sen. Machaela Cavanaugh (D) to bring the legislative body to a standstill.
Hunt's supporters include people who have voted for the bill she's worked so hard to keep from passing. State Sen. Tom Brandt (D) condemned Begley's filing. "I know people are upset about the filibuster. I get that all the time from my constituents. I tell them it is the senator's right under the rules," Brandt said, according to Nebraska Public Media. "And who knows when I as a rural senator will need those rules. I will stand with Sens. Hunt and Cavanaugh for their right to speak out."
Hunt said that she appreciates her colleague's support on this ethics complaint—but kind words are not enough. "I don't need their words. I need their vote," she tweeted on Wednesday. "My child needs their vote. Children and families from across our state need their votes. Words are meaningless unless you put action behind them. I will continue to advocate for our children - yours, theirs, and mine - no matter what harassment or intimidation comes my way."