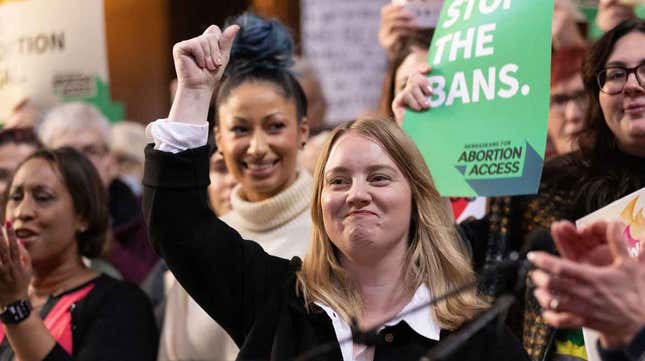 On Thursday, news that Nebraska Democrats narrowly defeated a six-week abortion ban came as a shock, as state after state—particularly in the Midwest and the South—passes bans in the aftermath of Roe v. Wade's fall. After extensive, contentious debate among even anti-abortion lawmakers about whether its exceptions would sufficiently protect doctors who provide emergency care, the proposed six-week ban fell one vote short of getting the votes it needed to overcome the Democrats' filibuster. That meant the bill could not be brought forth for a floor vote.
The six-week ban had seemed inevitable: Nebraska Gov. Jim Pillen (R) pledged to sign it. Republicans hold 32 of the legislature's 49 seats; 33 votes are need to overcome a filibuster. Still, State Sen. Megan Hunt (D)—who's led her caucus in fighting abortion restrictions in the red state—says that anyone shocked by the ban's failure doesn't know what's been going on behind the scenes. She was happy to break it down for Jezebel.
"We decided early in the session, this first one after Roe, that every bill was an abortion bill," Hunt said. "That means, we were going to fight on every single bill, use any influence we could get, to be able to change the ultimate vote on an abortion ban like this." Hunt and her Democratic colleagues were filibustering, stalling, and otherwise increasing pressure to remind Republicans that the consequence of supporting an abortion ban would be total stagnation in the legislature. "It's to the point that typically, we pass maybe 300 or 400 bills per session. In this session, we're on track to pass 20, 25, because we're filibustering every single bill."
The culmination of this pressure campaign, Hunt said, was the six-week ban's failure to draw the votes on Thursday.
On the federal level, progressive Democrats have been pushing to end the filibuster in the Senate since winning a very narrow majority in 2021. They emphasize that this would open the door for codifying reproductive rights, for one, and President Biden voiced his support for this change after Roe fell last June. On the state level, Nebraska Democrats have shown the power that the filibuster affords those in the minority.
All this comes at a fairly busy moment for Hunt: As of Wednesday, she is under investigation by the state's Accountability and Disclosure Commission for a supposed "conflict of interest" in her legislative advocacy for trans rights because she has a trans child. "This is from a complaint from a local attorney—literally just some guy," Hunt said. She seemed unbothered by the investigation. "Being a loving parent is not a conflict of interest. But they can do whatever they want. They can take me to court if they want to, because it's not a complaint I take seriously."
Instead, she sees this sort of retaliation as a mere distraction, as anti-trans bills continue to work through the Nebraska legislature and the state is likely to see more proposed abortion bans, too. "So, the filibuster continues. We aren't letting a single bill pass until abortion rights and trans rights are protected here," she said. Last month, Hunt and her Democratic colleagues applied their strategy to fight a bill banning gender-affirming care for trans youth, but fell one vote short of successfully filibustering it; the bill advanced to another round of debate, PBS reports.
Hunt emphasized that she and her colleagues achieved Thursday's reproductive justice win with little national attention and "without a penny of support" from Democratic leadership and top party fundraisers like Emily's List. "We're out here scrapping, fighting, winning, and it should be a lesson to everybody that you don't need to be noticed to do the right thing. You don't need to have financial backing, you don't need to be on CNN or what-the-fuck-ever. In Nebraska, we're fighting and winning," she said.
Still, Hunt notes Nebraska Democrats can't necessarily offer a playbook to legislatures in other red states. Nebraska's legislature, she says, has a unique nonpartisan, unicameral legislature without party leadership, and the state has "a proud history of independence and libertarian values" that innately contradict abortion bans. (Speaking of libertarianism, one Nebraska Republican went as far as arguing in favor of the abortion ban because the resulting forced births would boost the labor force.)
But even if tactics in Nebraska's legislature might not neatly work in, say, Kentucky's, Hunt believes the mindset of doom that some tend to have around abortion and trans rights in red states sets them up for failure. Abortion rights activists in red states continue to fight back against the most jarring attacks with the least resources—and win, even still: In Tennessee last week, organizers successfully won the repeal of an 1883 law criminalizing "procurement of a miscarriage," to decriminalize self-managed abortion and pregnancy loss. Kansas, Montana, Kentucky, and Michigan were among the states where voters upheld abortion rights via ballot measure last year.
The loss of our rights can't be treated as an inevitability, because it's not an inevitability. Another takeaway, Hunt says, is that you just never know what's going to happen—and we have to stop pretending we do. "Until the last minute on the vote, we didn't know what would happen. That's always how it is."