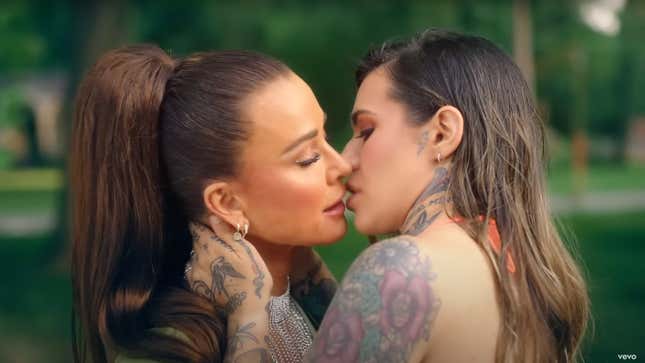 Less than one week ago, tatted country singer Morgan Wade announced that her rumored relationship with Real Housewives of Beverly Hills star Kyle Richards would be receiving the coveted Chrishell/G Flip treatment: The two very cozy "friends'' would together star in Wade's upcoming music video for her new single "Fall in Love With Me." Well, folks, the time has come for the public to feast our eyes on this much-hyped video, and good lord, if these women are baiting us, they're way too good at it.
Larsa Pippen and Lisa Hochstein Pick Sides
On Thursday, Richards and Wade made a joint post on Instagram announcing that the video had just dropped. "It's campy and fun—but also important and representative of all kinds of love, even in the country space, in any space," Wade wrote. "[Kyle] and I trusted the process of making a piece of art that stands boldly beside this music and I'm proud of that…Thanks for the support and love. Love is love is love."
Now, before we get to the burning question of whether or not Richards and Wade kiss in the video (burning, I tell you!), a quick reminder that as the summer of divorce blazes on, Richards has been navigating a very public separation from her longtime husband (and RHOBH favorite good guy) Mauricio Umansky. During that time, netizens have noticed that Richards had struck up a seemingly out-of-nowhere close friendship with Wade. The two have since been repeatedly photographed together, and TMZ reported that Richards was helping to produce a documentary chronicling Wade's substance abuse struggles and her career in the country music industry.

Onto the juicy stuff…literally. The video has every scintillating porno housewife trope one could possibly imagine. Between Richards spying on her new neighbor (Wade) through the blinds, sexually licking an envelope as she seals a secret letter for the latest apple of her eye (again, Wade), and watering the plants in lingerie hoping Wade might take a peek, this "piece of art" is bound to keep at least one lonely person happy for a long, long time to come (ahem). Playing it coy, Wade avoids Richards' advances (which, at one point, include her humping the air on a bosu ball in silver high heels and a neon pink onesies shoved up her ass), until finally, Wade takes off her shirt in the middle of the yard, approaches Richard, and grabs her face to kiss her. EXCEPT! We're quickly shuffled to the next scene before we see an actual kiss take place. Is this edging? This feels like edging.

After the chase is over, the two canoodle in the kitchen—Richards again in lingerie—as the two women feed each other watermelon, strawberries, cherries, and squirt whipped cream in each other's mouths, all while the lyrics "Can't you see I'm what you need?/Make you hit your knees, pull out that ring./Gonna make you fall in love with me" hang in the back. Spicy!

Luckily, Umansky seems to have good humor about the, um, spectacle, as he commented on his estranged wife's post about the video, "🔥🔥🔥 So good." And in Wade's behind-the-scenes video promoting the single, the two women admitted they couldn't wait to "poke fun" at the "trolls." The thing is…I know Richards has been acting since she was a kid, but there's a reason she's only really been in several Halloween remakes and soap operas. I'm not buying that this isn't real chemistry! One simply cannot fake this, and especially not Kyle Richards!

"I've done several music videos and every time there's someone in it with me, they always assume we're dating or something's going on," Wade said. "You see people being obsessed with us being friends and why we're friends, but we thought it would be a good idea kind of to…troll the trolls a little bit.

Richards agreed, adding that if people were "gonna talk, you might as well give them something to talk about."

Well played, Kyle. The people are certainly talking now...