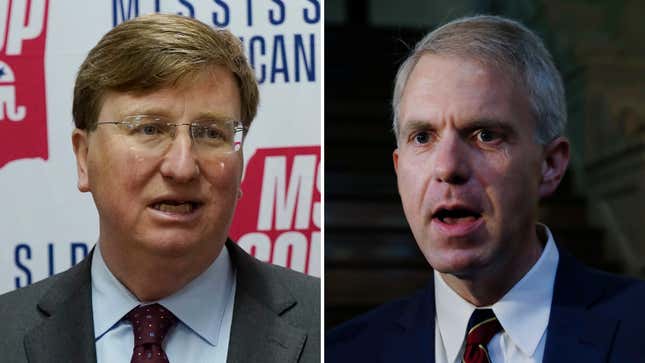 Mississippi Gov. Tate Reeves (R) has reason to be worried he'll lose reelection to a Democrat this fall and—would you look at that!—he now suddenly supports expanding postpartum health insurance coverage for women and birthing people, an issue the Democrats have been criticizing him on.
The state has one of the country's highest maternal mortality rates, and that was before the Supreme Court overturned Roe v. Wade. Abortion is now banned in Mississippi, and officials expect an additional 5,000 births a year. The mere fact of more pregnancies means that there will be more pregnancy-related deaths in every state. Since we shamefully don't guarantee healthcare in this country, people without insurance can get Medicaid coverage during their pregnancy, and for 60 days postpartum. States can extend that period for longer, and experts recommend a at least a full year of coverage to help prevent maternal deaths and complications.
Reeves has long opposed expanding postpartum Medicaid—as well as Medicaid coverage for low-income adults who aren't pregnant—but he did an about-face on Sunday. Why might that be? Not only do a majority of registered voters surveyed want a new governor, but there's a viable alternative. Reeves is facing a legitimate challenge from Democrat Brandon Presley, a state utility regulator and, yes, a distant cousin of Tupelo-born Elvis Presley. A January poll found Reeves trailing Presley, 43 percent to 47 percent. (Presley is selling amusing "Later Tater" bumper stickers, which is more family-friendly than the Governor's other nickname.)
The state Senate passed SB 2212, which would extend postpartum coverage to 12 months. But House Speaker Philip Gunn (R) told reporters Wednesday that he wouldn't allow the bill to get a vote in the House, because "we're not for Medicaid expansion in Mississippi."
Presley has been rightfully dragging Reeves on Twitter. "It's easy to run your mouth about being 'pro-family' when you are evading an issue," he wrote Thursday. "@tatereeves doesn't have the guts to push postpartum care for mothers. You would think 'His Majesty' would be able to persuade the Legislature to do the right thing. Unlike @tatereeves, I don't think I know more than doctors."
Reeves said on Twitter Sunday that he thinks the legislature should pass the bill and he's sign it into law if they do. Notably, he doesn't make any mention of preventing maternal deaths, just simply that "it will be worth it, as more children of God are brought into the world!" The subtext is that it will be worth it for Reeves, personally, as he tries to hold on to his seat.

Two Democratic leaders, Sen. Derrick Simmons and Rep. Robert Johnson, criticized Reeves in a joint statement Sunday. "Saying he'll sign this bill if it comes to him is simply a last-ditch effort to save face on an issue that the vast majority of Mississippians support. It is not courageous; it is craven political theater."
They're absolutely right. Good luck to you, Mr. Presley.