Welcome to Megyn Kelly Today, Today, a new daily column in which we will share the most memorable things that happened on Megyn Kelly Today every morning until we are no longer able to watch Megyn Kelly Today without feeling like there will be no tomorrow.
Ana Gasteyer Satirizes the Girl Boss in 'American Auto'
Megyn Kelly walked onstage in an all-black ensemble.
Megyn Kelly said, "It's Friday! We made it! Almost there."
Megyn Kelly talked about the Harvey Weinstein scandal again.
Megyn Kelly said, "Now one can understand [Twitter's rules]. Rules like the ones that don't allow one person to harass another on Twitter. Rules that don't allow them to incite harassment against another. Rules that don't allow one person to threat [sic] another. Now, who do we know who's ever done that on Twitter?"
The audience laughed.
Bobby Finger remembered the glory days of Megyn Kelly Today, when Megyn Kelly promised not to talk about politics.
Megyn laughed and said, "No! Not him! His attorney!"
Megyn Kelly talked about Trump's lawyer, who once "encouraged folks to gut" her.
Megyn Kelly said, "Twitter, do better."

The audience laughed.
Megyn Kelly brought on NBC anchor Craig Melvin to discuss whether or not one's spouse should be their best friend.
Craig said his wife is his best friend "because I don't have other friends."
DOUG ALERT: Megyn Kelly said "Doug and I are best friends, too" but not because she "doesn't have other friends."
Craig Melvin said, "I would imagine it takes a special man to put up with Megyn Kelly."
Craig Melvin and Megyn Kelly discussed whether or not a straight man's male friends are important.
Megyn Kelly said, "More and more men are crying with their male friends."
Craig Melvin dismissively said, "Who said that?"
Bobby Finger said, "I don't like where this is going."
Megyn Kelly said, "it is Friday the 13th, which is one of the reasons I'm in all black."
Megyn Kelly said she would not live on the 13th floor of a building because she's so superstitious.
Craig Melvin said you're supposed to look someone in the eye while toasting otherwise you'll have seven years of bad "....luck." (He meant sex.)
Megyn Kelly said, "Action?" (She meant "ackshawn.")
Megyn Kelly introduced a segment about getting the best deals on airlines, restaurants, and retail.
Megyn Kelly welcomed a guest, former flight attendant (some call them "airplane hosts") Bobby Laurie.
Bobby Laurie said to sit in the front of the airplane to get the food you want. Wow! Who knew.
Bobby Laurie said you should sanitize your tray table before using it because some people change diapers on them.
Megyn Kelly welcomed guest Darron Cardosa to explain how to get a table at a busy restaurant, which is to go there in advance (maybe a week in advance?) and schmooze the host.
Megyn Kelly asked how much we should "really be tipping."
Darron Cardosa said 20 percent.
The audience applauded.
Megyn Kelly welcomed guest Christa Avampato to explain how to save at retail stores. "Don't go to the right," she said. Expensive stuff is on the right? Or something? Always buy from the left?
Bobby Finger didn't understand this one.
Megyn Kelly teased the next segment, in which a young woman will prove that "football is no longer a man's sport."
Bobby Finger said, "Football should be no one's sport."
Megyn Kelly played tape of young women named Alicia and Becca who plays football for their high school team.
Megyn Kelly said Becca is the first first woman in US history to earn a football scholarship to an NCAA division II school.

Bobby Finger wondered whether Megyn Kelly would mention brain injuries.
Megyn Kelly asked Alicia's (or Becca's) mother if she's afraid of Alicia getting hurt.
Alicia's (or Becca's) mother said, "No." And explained that she knows how to hit "correctly" and that she wears "pads."
Alicia's (or Becca's) mother said, "Every sport gets injuries, but I'm not worried because she's protected more."
This happened before cutting to commercial:
Megyn Kelly welcomed Erica Diamond, a life coach and yoga teacher, who uses yoga to "de-stress."
Bobby Finger laughed when Erica Diamond dramatically revealed that she became a yogi after a "really close encounter with burnout."
Megyn Kelly said, "I have to tell you, I resist this strongly."
Megyn Kelly did yoga with Erica Diamond and four other women.
Relaxing, ambient music began playing.
Megyn Kelly could not deal with yoga.
Erica Diamond said the cow/cat pose helps one's "emotional balance."
Erica Diamond kept adjusting Megyn Kelly's body, which made Bobby Finger as uncomfortable as it appeared to be making Megyn Kelly.
Megyn Kelly said, "I'm about to wreck your emotional balance. We need to move on to the next pose."
Megyn Kelly did the pose seen above.
Bobby Finger noticed something written on Megyn Kelly's palm.
Bobby Finger grabbed his magnifying glass, but could not make out the words.
Megyn Kelly said, "Up next, Lee Ann Womack!"
Megyn Kelly introduced us to Lt. Jim Downing, a 104-year-old Navy veteran ("one of the last living veterans of the Pearl Harbor attack"), in a "Settle For More" segment.
Megyn Kelly said, "You seem like you're a happy person. Are you?"
Jim Downing said he is.
Megyn Kelly asked what the secret to long living is.
Jim Downing apparently told Megyn the secret is "good genes."
Bobby Finger liked that.
Lee Ann Womack performed a new song that was filled front to back with cliches.
Bobby Finger sorta liked it anyway.
Megyn Kelly ended the show without talking to Hoda and Kathie Lee.
Bobby Finger realized that he no longer feels small when he stands beside the ocean.
Bobby Finger realized that whenever one door closes, one more doesn't always open.
Bobby Finger realized he doesn't feel like giving faith a fighting chance.
Bobby Finger realized that, when given the choice to sit it out or dance, he'd rather sit it out.
G/O Media may get a commission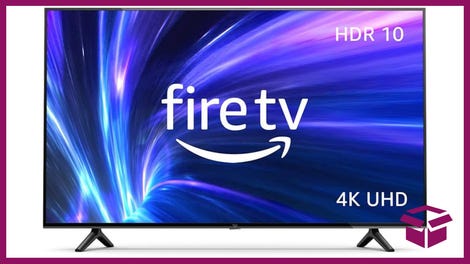 42% Off
Amazon Fire TV 50" 4K Smart TV
Clip of the Day: I'm About to Wreck Your Emotional Balance