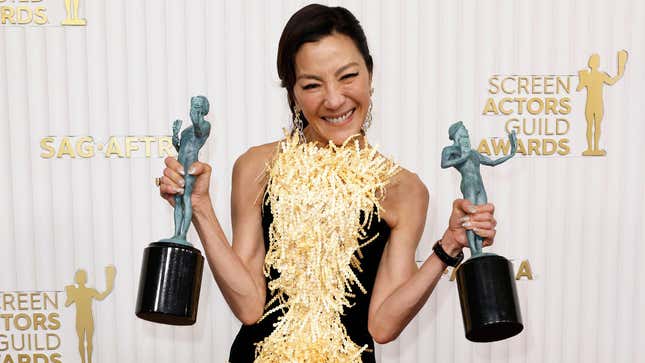 An old National Geographic photoshoot of Michelle Yeoh has been making the rounds online in the lead up to the 95th Oscars on Sunday. Shot in 1997, a young Yeoh soars over the Hollywood sign in a silver dress and heels, somehow managing to pose gracefully in the air. As the woman who might make history by becoming the first Asian woman to win an Oscar for Best Actress, it seems likely that Yeoh feels that way right now: floating in a magical moment that, with the right stroke of luck, might just become reality.
What's Next for Oscar Winner Michelle Yeoh?
Following her performance as Evelyn Wang in A24's action-packed, multiverse comedy drama Everything Everywhere All At Once, Yeoh has been nabbing awards left and right this awards season, many of them marking "firsts" for Asian actors. When she won Best Female Actor in a Leading role at the SAG Awards last month, she was keenly aware of the weight that her win held: "I thank you for your love, for your support, because I know I am up against titans," she said during her speech in a flurry of emotion. "Thank you, thank you, thank you. This is not just for me, this is for every single girl that looks like me." [[Insert Leo DiCaprio pointing at the TV, except it's me, sobbing, pointing at my celebrity mother.]]
And she's right: There's no denying what a big deal Yeoh's Oscar nomination is to the Asian American community. Her nomination alone marks the first time an Asian woman has been up for this award in over 85 years. Merle Oberon was nominated for Best Actress for her performance in The Dark Angel in 1936; she lost to Bette Davis for her role in Dangerous. But even with nominations aside, the very existence of EEAAO stands testament to how far Hollywood has come since then (but obviously, not far enough!): Oberon, who was white-passing, was never open about being of Asian descent, which probably helped her reach such prominence in the first place. EEAAO, in contrast, couldn't be more of an unapologetic ode to the Asian American community, grappling with themes of intergenerational trauma, the immigrant experience, and of course, my favorite: mommy issues.
Having been snubbed by American cinema for the majority of her nearly four decades in acting, Yeoh knows that, while incredibly exciting, taking home an Oscar isn't just about any singular win—it's about paving the way for an entire generation of Asian American creators. When nominations were first announced in January, Yeoh shared her ambivalence about it with New York Times: "Of course, I'm over the moon, but I feel a little sad because I know we know there have been amazing actresses from Asia that come before me, and I stand on their shoulders," she said. "I hope this will shatter that frigging glass ceiling to no end, that this will continue, and we will see more of our faces up there."
I, personally, have no intention of ever pursuing acting or anything of the sort, but having celebrated Asian artists to point to when trying to justify my unconventional career path to my own mother is pretty dang helpful.
And while Yeoh has taken home many a trophy this awards season, some awarding bodies have proven their impenetrable whiteness, which doesn't look like it'll budge any time soon. Despite being nominated for Best Actress at the BAFTA Awards, Yeoh was not amongst the sea of all-white winners beaming with their prized momentos at the end of the night in February.
And Yeoh seems to be carrying the weight of her potential Oscars loss with her: Earlier this week, Yeoh posted since-deleted screenshots of a Vogue article on Instagram in which the the author described how "life changing" her win would be (not just for Yeoh and the author, but for the racial landscape of Hollywood writ large), compared to two-time Oscar winner Cate Blanchett, who is also up for the award for TÁR. Some were worried that Yeoh's post might hurt her chances by violating an Academy rule about naming a direct competitor by name—but so far, she hasn't faced any pushback (at least publicly). That being said, I totally get it: If I had the entirety of Asian America rooting for me, I'd do just about anything to win.
Up until the very moment that Yeoh is (potentially! fingers crossed!) crowned Best Actress on Sunday, I, too, will feel like I'm suspended hundreds of feet in the air. But rather than trapezing elegantly like Yeoh, I'll be hanging on for dear life, hoping that groundbreaking, historical news will help cure my vertigo.