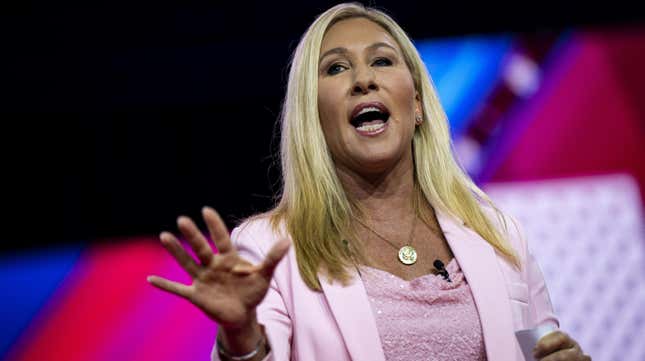 In the roughly two-and-a-half odd years since Rep. Marjorie Taylor Greene (R-Ga.) entered the spotlight, she's compared covid safety measures to the Holocaust, physically kicked a gun safety advocate, spread unhinged conspiracy theories, and generally raised hell in epically stupid fashion. Nonetheless, the rabidly anti-trans speaker at a 2022 white nationalist conference made her 60 Minutes debut on Sunday, and it was a perfect example of how the media should not be covering overtly fascist politicians.
It doesn't help that Greene's actual comments on the show were utterly fucking bonkers. Greene broadly called the Democratic Party the party of "pedophiles" for its (honestly tepid) support for the LGBTQ community. "Democrats support, even Joe Biden, the president himself, supports children being sexualized and having transgender surgeries," Greene said. "Sexualizing children is what pedophiles do to children."
Let's be unequivocally clear: This is the kind of language that can get people—trans kids, trans adults, drag performers, supportive parents of trans kids, even doctors—killed. Airing this on national television is beyond irresponsible. In an era of violent attacks and even gun violence targeting queer nightclubs and spaces, platforming this language is dangerous and indefensible. The entirely unfounded, queerphobic "pedophilia" panic targeting LGBTQ people is about stoking hate and misinformation, all while the right actively sexualizes and harms children. In real time, we are seeing Republicans like Greene advocate for more guns in schools, refuse to address school shootings, ban gender-affirming health services that save trans kids' lives, and inexplicably sexualize girls' periods.
When asked by interviewer Lesley Stahl about her "name-calling," Greene equated her choice to call Democrats pedophiles with Democrats calling her a racist. "They call me racist. They call me anti-Semitic, which is not true. I'm not calling anyone names. I'm calling out the truth basically," she said.
The interview was, in other words, a phenomenal waste of time that achieved nothing beyond further emboldening anti-trans bigots.
In the days leading up to Sunday, many rightly predicted this outcome. Others, of course, held out hope that the interview would be a chance to fact-check or hold Greene to account for her deplorable politics. But that's just not how this works. Marginalized people will never stand to benefit from the platforming of bigots. That's because bigots and their equally bigoted followers don't care about stats or facts or a disapproving "Wow!" from Stahl in response to Greene calling Democrats a party of pedophiles. Their followers are looking for absolutely any reason to further harass or attack queer and trans people—and for some, the torrents of bullshit from Greene being spewed from their TV screens is all they'll need. Thanks for nothing, CBS!