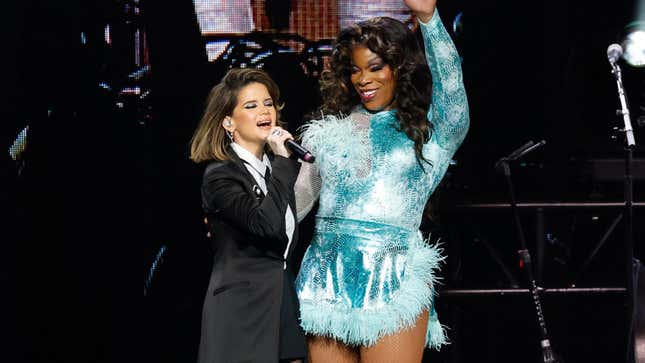 The "lunatic country music person" strikes again!
On Monday night, beloved country music artist, LGBTQ+ ally, and Fox News enemy #1 Maren Morris performed alongside Hayley Williams, Hozier, Sheryl Crow, and a joyous choir of drag queens at Nashville's Love Rising' benefit concert. Rolling Stone reported that the gathering raised money for several Tennessee organizations "working to fight the state government's ongoing legislative attacks against the LGBTQ+ community." (Those attacks include a ban on drag shows near schools, a ban on gender-affirming care for trans teens, and a proposed bill that would force drag queens to register as "adult cabaret" performers.)

Taylor Lautner Doesn't Even Remember Saying 'Bella! Where the Hell Have You Been Loca?'
During her performance, Morris taunted Tennessee's rightwing legislators, saying, "And yes, I introduced my son to some drag queens today, so Tennessee, fuckin' arrest me." Morris' son is 2 years old, and I hope he meets all the drag queens his tiny heart desires.

"I brought my son here earlier today for soundcheck, and he's turning 3 this week, and we got to go in the room where all the queens were getting ready and doing their makeup. And he freaked out when he went in there because it's just magic what drag queens do," Morris told Variety. "It's just like a room of love. And we went back to my dressing room and my son is like, 'I need the queens!'"

Naturally, Fox News lost their minds over Morris' onstage show of support for the state's drag queens, just as they did when Morris—like a champ—called Jason Aldean's wife "insurrection Barbie" over an anti-trans video she posted last year. The rightwing outlet clocked this latest occasion as "winning her praise from the Washington Post, Variety, and a host of other liberal media outlets." Welp, add Jezebel to the list.

Fox also appeared to be upset that Morris chose to wear a suit "to demonstrate the subjectivity of drag and gender expression," as she wrote in an Instagram story Tuesday.

Morris has become one of Fox News' favorite punching bags over the last year, which only emboldens her fans, who've taken to wearing Lunatic Country Music Person tees to her concerts (proceeds from the shirts benefit GLAAD's Transgender Media Program and Trans Lifeline).
---