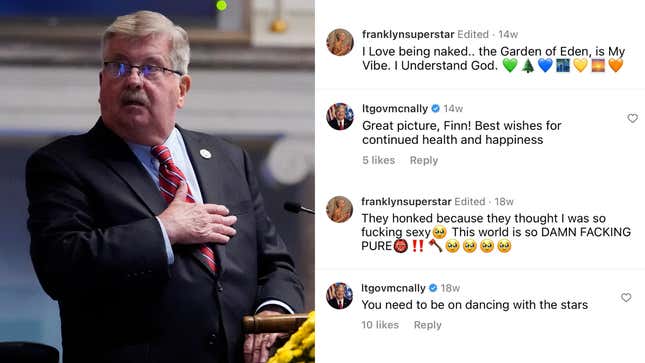 In the last week, the Tennessee legislature has been busy: It passed bills to criminalize drag shows and gender-affirming care for transgender children, and is now considering a bill that would allow local officials to deny marriage licenses to same-sex and interracial couples. Apparently, Tennessee's lieutenant governor Randy McNally, 79, has been busy too. McNally, who also serves as speaker of the Senate, has played an instrumental role in advancing all of these bills—all while lavishing supportive comments on a string of gay men's revealing Instagram posts, according to a report in the Tennessee Holler.

Infamously Thin-Skinned Man Joins Twitter's Board
"Finn, you can turn a rainy day into rainbows and sunshine!" McNally commented on one post from a young gay man wearing only underwear in January. In another comment on the same post, McNally shared a mess of fire and heart emojis. On another post from the same young man, captioned "I Love being naked," McNally wrote: "Great picture, Finn! Best wishes for continued health and happiness."
In another semi-nude Instagram post from the user, McNally wrote: "you need to be on dancing with the stars," and "love it" with a heart emoji.
There's more—a lot more, actually:
Since the original Tennessee Holler report this week, additional comments have surfaced, including McNally appearing to lavish praise upon a trans woman's Instagram posts. "Super beautiful," he commented. (For the record, I agree!)
In a statement shared with Jezebel, a spokesperson for McNally said people should not "imply something sinister or inappropriate about a great-grandfather's use of social media."
"As anyone in Tennessee politics knows, Lt. Governor McNally is a prolific social media commenter," the statement continued. "He takes great pains to view every post he can and frequently posts encouraging things to many of his followers. Does he always use the proper emoji at the proper time? Maybe not. But he enjoys interacting with constituents and Tennesseans of all religions, backgrounds and orientations on social media. He has no intention of stopping."
I'm quite fixated on this choice of words: "He has no intention of stopping." It sounds like a threat! If only McNally could translate his enthusiasm for his constituents' social media thirst traps to enthusiasm for their rights.
In addition to this statement from McNally's office, in a Thursday interview with local station NewsChannel 5, he apologized—but not for the comments themselves. "I'm really, really sorry if I've embarrassed my family, embarrassed my friends, embarrassed any of the members of the legislature with the posts," he said. When asked what people should take away from his comments, McNally said, "I don't know that they should take away a whole lot."
McNally's online activities have set off a wave of internet theorizing, with some positing that the 79-year-old didn't realize his comments were public and believed he was sending private direct messages.
If this latest story about a publicly anti-LGBTQ politician not practicing what they preach feels familiar, that's because on some level, it is. Last month, old photos of Tennessee Gov. Bill Lee (R)—who's signed several anti-drag and anti-LGBTQ bills—wearing drag resurfaced. And in recent years, a handful of Republican politicians have been arrested for the very same sexual misconduct that they claim is perpetrated by trans people to justify bills barring them from restrooms.
McNally's intentions with his Instagram comments, and whether he believed his comments were private or not, remain the object of rampant speculation. But however surprising this latest development is, more so than McNally's personal life, the more important takeaway from this mess is that queer and trans people's rights are under attack.