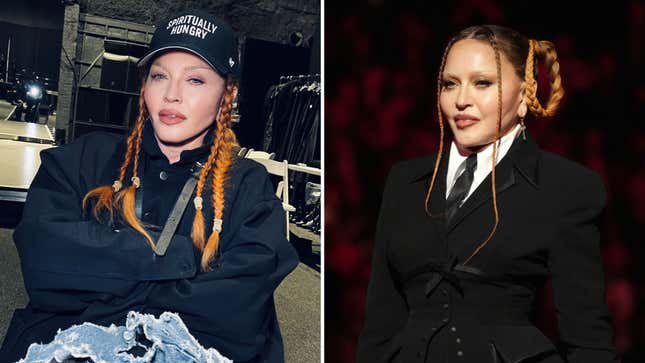 Madonna's face—whether it's good or bad, real or fake, natural or pumped full of injections and surgically enhanced, aging well or aging poorly—has been the tired topic of much conjecture this month. But it seems Madonna, who is 64, isn't satisfied with simply having the last laugh. She appears set on "Lol"-ing at her haters in perpetuity, perhaps all the way to her grave.
Madonna's face first started trending after she introduced Sam Smith and Kim Petras for their "Unholy" performance at the 2023 Grammy Awards. Twitter users said they were "confused," calling her face sans eyebrows "unrecognizable" and inferring that she had just gotten a ton of cosmetic work done. Following the onslaught of internet fury about her physical appearance—namely, why she couldn't just age "gracefully" (this is sexist, too, of course)—Madonna posted a reel on Instagram, reminding followers that she's been "degraded by the media since the beginning of my career" and condemned Hollywood's rampant "ageism and misogyny."

On Monday, two weeks after the Grammys, the Queen of Pop decided to rehash the drama, posting a photo of herself on Twitter with the caption: "Look how cute i am now that swelling from surgery has gone down. Lol 😂" At least on Twitter, she was met by a chorus of "slay"s from her followers.

This tweet marks the third time Madonna has shit-posted about the incident. Three days after the initial uproar, according to People, she also posted photos of herself in a shredded denim tuxedo to her Instagram Stories with the text "Most Definitely Not Sorry."

G/O Media may get a commission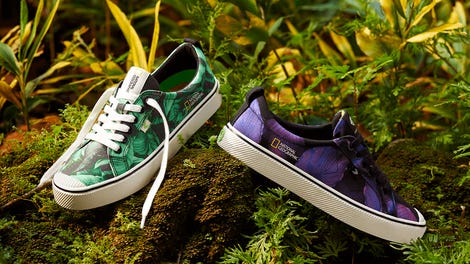 New New New
Cariuma + National Geographic
As she noted in the first Instagram reel, Madonna is correct (sage-like, even!) that we live in "a world that refuses to celebrate women past the age of 45 And feels the need to punish her If she continues to be strong willed, hard-working and adventurous." But also, like many a female celeb, Madonna helped create all these unrealistic beauty standards.
I support Madonna's right to shield herself from the trolls and any particularly nasty comments about her face. I also understand that the industry demands an impossible fountain of youth from her and all women in Hollywood over the age of 25 and don't blame her for bending to the industry's whims. But she's still a famous woman who influences regular people, which means shouting "Yeah, Madonna slay, do whatever you want!!" isn't exactly helpful either.
Regardless, I stand on the side of those who wish that Madonna may continue to slay her days away. If shit-posting about criticism of her face is the healthiest coping mechanism she has for dealing with a fraught beauty landscape, then you best go all the way off, Queen.