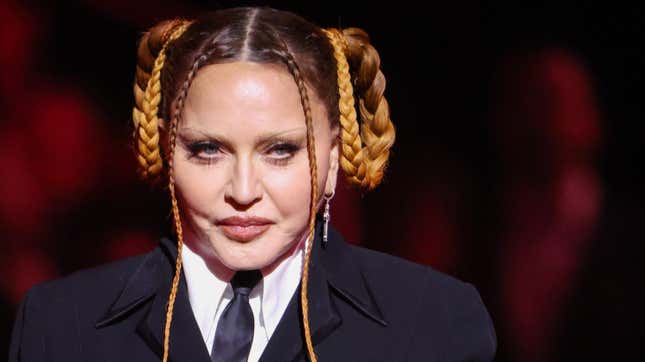 Madonna found herself at the center of another bout of raging discourse on Sunday night—a place she might as well call home after decades as the controversial, boundary-pushing Queen of Pop.
Ana Gasteyer Satirizes the Girl Boss in 'American Auto'
The singer appeared onstage at the 65th Annual Grammy Awards in Los Angeles to introduce the now Grammy-winning duo Sam Smith and Kim Petras for their "Unholy" performance. "Are you ready for a little controversy," Madonna asked viewers—but the audience (both in the arena and online) was unfazed by whatever she said. Instead, the internet found itself "confused" over Madonna's "unrecognizable" face—which just merely appeared freshly pumped with filler and lacking a couple of standard features.
We've already gone round and round on the "aging gracefully" carousel, and frankly, expending any amount of energy fretting about the appearance of middle-aged women in Hollywood continues to be a useless pastime—so I'd argue that Madonna's recently bleached and/or absent brows (not so much the apparent facial modifications) are the real conversation piece here.
G/O Media may get a commission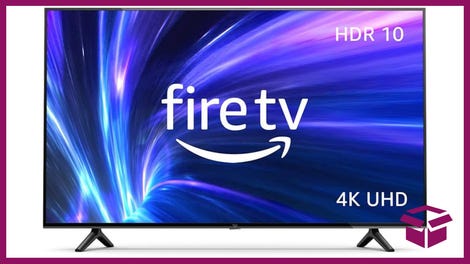 42% Off
Amazon Fire TV 50" 4K Smart TV
Madonna appears to have hopped on the trend of disappearing one's eyebrows—quite a stark departure from the thick brow renaissance this country has enjoyed since egregiously overplucking our eyebrows in 90s. Everyone from the Kardashians and the Hadids to Doja Cat, Lizzo, and Julia Fox has experimented with the otherworldly aesthetic by either taking a razor to their brows or bleaching them to create an elongated, alien-like forehead (one of the most recent offenders is the beloved JVN). Alongside the Y2K revival, thin eyebrow filters were made available on TikTok, and young and queer people began drawing thin-lined brows in the vein of a 90's Pam Anderson. If the perfectly coiffed bushy brows normalized by Anastasia of Beverly Hills and Instagram influencer fame were a reaction to the over-plucking of the 90s, Hollywood's shrinking eyebrow epidemic is a rejection of that same perfect brow.

Just like the growing obsession with buccal fat removal, negative space on a forehead seems to be the latest attempt at achieving an edge—and some of the most famous eyebrows in the world have been erased almost as quickly as famous men are getting uncanceled. Unfortunately, the physical lack of eyebrows does not make up for a lack of personal style! Looking constantly aloof is not a talent!
 


Trend cycles move quickly, so the fact that this jarring aesthetic hasn't yet dug its own grave is…eyebrow-raising. A master of sticking around—from vagina NFTs and twerking club nights with club rats half her age—Madonna carrying the mantle of vanishing brows feels like a last-ditch attempt to stay both young and relevant. I would argue that nonexistent eyebrows don't look good on literally anyone of any age—but lucky for the "Like a Virgin" singer, she absolutely doesn't give a fuck what I think.