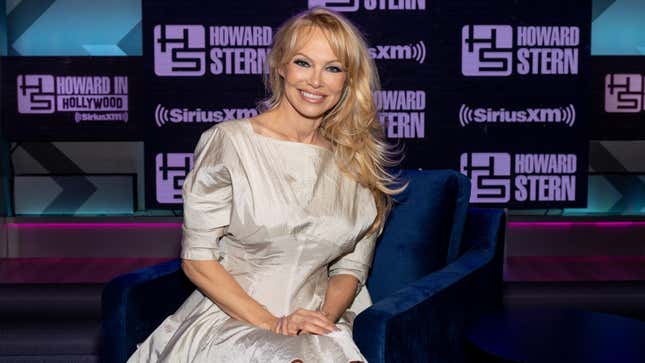 Howard Stern has fashioned a career out of objectifying celebrities—women, to be specific. He once provoked Sarah Michelle Gellar about her pubic hair, tried to force Anna Nicole Smith to weigh herself on air, and asked Mariah Carey if she wore underwear. Somehow though, he's still working and booking high-profile and oft-harassed guests like Pamela Anderson, a woman he's spent years hitting on despite the fact that she couldn't be any less interested.
Is Emmy Rossum Old Enough To Play Tom Holland's Mom?
This week, the actress, model, and author appeared on Stern's Sirius XM show to discuss her forthcoming projects—a Netflix documentary, Pamela, a love story, and memoir, Love, Pamela—and naturally, he quickly ventured into profoundly personal territory. For example: where she stands with her ex-husband and the father of her two sons, Tommy Lee ("I mean, he's married and happy and she's good to him"); her relationship with one of her first bosses, Hugh Hefner ("he wrote me letters all the time"); and her choice to include in her memoir that she was sexually assaulted at the age of 12 ("I didn't want it to be just this big old tell-all, you know? This miserable book. It's hopeful. It's inspiring").
At times—that is, when Stern allowed her to speak—the conversation was illuminating and very endearing. Addressing her recent split from Canadian contractor Dan Hayhurst, Anderson offered a perhaps unintentionally hilarious response. "I could just babble on about so many things, and he would just go, 'huh?'" she admitted, giggling. "I tried and it just didn't work. I just thought, 'I am definitely not going to put up with this.'"
She also poignantly reflected on her widespread perception as a sex symbol and the bizarre ways it's manifested in her everyday life. "Someone will come up to me at a restaurant and go, 'Tell me a sex story!'" Anderson recalled. "You know, I'm not a clown. I feel like I'm this sex clown."
Even still, Stern found ways to bring the interview back to her sex life, suggesting or speculating on who Anderson should date next ("Timothee Chalamet"), and insinuating he could play matchmaker. "What's the plan?" he goaded. "No, no plan. I have no idea, but I love that feeling," she answered. "I have no plans. I have no plans to meet anybody. I have no plans for my career. I have nothing. I'm just in my garden, at home, with my dogs. And you know, we'll see what happens." As I recently wrote, Anderson's domestic situation sounds, well, pretty damn idyllic at the moment.
"No guy you have your eye on?" Stern further probed. "No," she said, resolute.
Near the end of the interview, Stern then asked if his friend, Ralph, can say hello. Apparently, he's a big fan. Of course, Anderson agrees.
"Pam, you are amazingly calm about the horrible way people have treated you," Ralph began, before rambling on for a minute. "Hollywood's so fucking disingenuous. Just because she's a sex symbol does not mean...it's like, 'Oh, it's OK to rape a hooker.'"
Gracious as ever, she laughed.