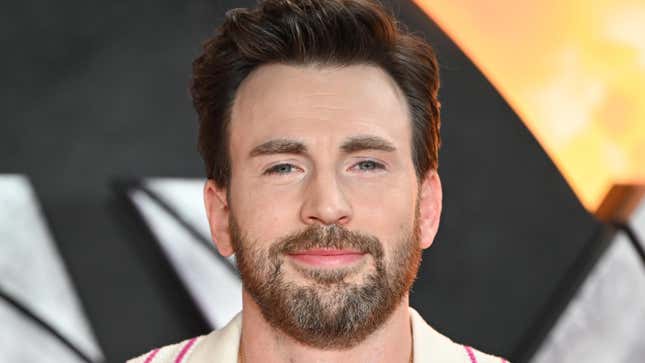 You can tell it's a slow news day, and has been a relatively slow news week, because for what other reason would all of us be on Twitter, typing away about perhaps the most quintessentially Hollywood Thing ever: older, 40-something male celebrities dating much, much younger women.

Jennifer Hudson Achieves EGOT Status, is True American Idol
I give you: Chris Evans, 41, going public last week with his relationship with 25-year-old girlfriend, actor Alba Baptista, 25; Bachelor nation's Nick Viall, 42, getting engaged to his 24-year-old girlfriend Natalie Joy this week; all of the recent sightings of Leo DiCaprio with yet another 23-year-old model; or things appearing to get more serious between 59-year-old Brad Pitt and his 30-year-old jewelry designer girlfriend, Ines de Ramon.
At the same time all that's been happening, as Jezebel noted earlier this week, there's been a lot of chatter lately around Austin Butler, 31, and girlfriend Kaia Gerber, 21. Gerber is notably 13 years younger than Butler's previous girlfriend of nearly 10 years, Vanessa Hudgens—a woman Butler very controversially referred to as a "friend" in an interview this week. A photo that went viral last year shows an adult Hudgens meeting a six-year-old Gerber on a red carpet in 2007.
Also this week, Florence Pugh, 27, weighed in yet again on the incessant backlash she faced throughout her nearly four-year relationship with Zach Braff, who's 47. The two confirmed that they'd called it quits last summer. "We weren't in anyone's faces. It was just that people didn't like it," Pugh told Vogue for their January 2023 cover story. "They imagined me with someone younger and someone in blockbusters."
What a time to be alive—some of us, alive for roughly a quarter-century longer than our partners. All of these women are consenting adults, mind you, so neither I nor pretty much anyone else on the internet in their right minds is "MeToo-ing" any of these men. It's just so tired at this point. You try to start a conversation about sexist ageism, or joke about how it makes sense that all Evans and his girlfriend do is prank each other, "because what does a 41 year old man have to talk about with a 25 year old woman?" And next thing you know, you're receiving a prolonged lecture from a certain demographic of people who are conspicuously knowledgeable about state-by-state age of consent laws.
The thing is, none of this is about legality, or abuse of power, or whether or not 25-year-old women are fully autonomous adults—they absolutely are. It's a deeper, more nuanced conversation on the impermanence of youth in feminized bodies, the gendered politics of attraction, the utter erasure and desexualization of women over 35, basically relegated to crypt keepers or cast as 26-year-old Tom Holland's on-screen mother, while 45-year-old men who peaked in the early 2000s remain sex symbols.
A nearly 60-year-old man who reportedly physically abused his ex-wife and their shared kids in an incident investigated by the FBI in 2016 remains perennially adored by all of Hollywood and is currently dating a 30-year-old model. At the same time, Olivia Wilde, 38, was portrayed as the devil incarnate for entire news cycles for leaving Jason Sudeikis for Harry Styles, 10 years younger than she. Sure, famous women who date younger men are often celebrated too—but it's from a place of appreciation for all of the patriarchal expectations being subverted by this.
Throughout Wilde and Styles' relationship, tabloid headlines and social media commentary ripped Wilde for needing to "act her age" and pearl-clutched at the supposed scandal of a woman leaving her long-term partner, with whom she shared kids, for a younger man. Notably, in 2016, Wilde revealed that when she was 28, she was told she was "too old" to play DiCaprio's on-screen girlfriend.

We should be allowed to complain about these dynamics—the immortalization of male virility, while women 40 and above are written out of existence—and aggressively riff off of them to our heart's content, because all of this is truly so predictable as to be corny at this point. Frankly, one of my favorite moments on Bill Gates' internet was last summer, when, across the political spectrum, we all briefly united to roast DiCaprio into oblivion for splitting with yet another model, Camila Morrone, the moment she turned 25. It marked a shift—we were finally, as a culture, ready to collectively laugh at how lame it is for a man in his late 40s to exclusively date women in their early 20s. Is doing so legal? Yes. Is it also pretty embarrassing for said 40-something man? Yes.

These are conversations we should be able to have—either purely in good fun, or through nuanced critiques of bullshit beauty standards and cultural norms—and we should be able to do so without being accused of "canceling" any of the men in question.