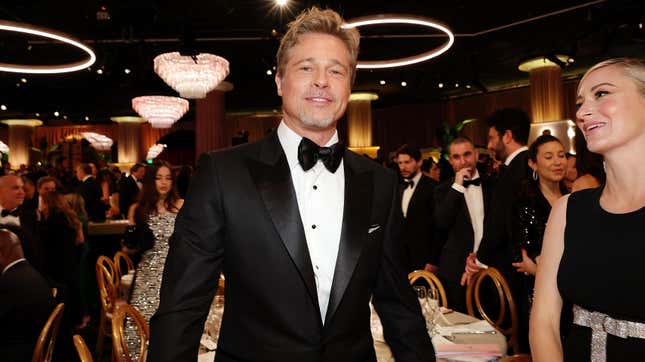 Once Upon A Time In Hollywood, Brad Pitt was just an Oklahoma-grown heartthrob; in 2023, he's an Oklahoma-grown heartthrob with some serious allegations of domestic abuse trailing close behind him. But much of Tinseltown doesn't seem to mind—in fact, if you assessed Pitt's personal stock solely by his reception at Tuesday's 80th Golden Globes ceremony, you might think he's never been more popular in the industry.
Man With Face Blindness has Married Two of World's Most Beautiful Women
Despite the fact that Pitt was only personally nominated for a single award last night (he didn't win), the actor—seated stage-side—was fondly shouted out by a who's who of stars—both winners and presenters. In his acceptance speech, Austin Butler, who snagged a statue for Best Actor, told Pitt: "Brad, I love you." Later, Regina Hall, while presenting the award for Best Actor in a Drama Series, declared herself, "Mrs. Pitt," and Quinta Brunson stopped smack dab in the middle of her acceptance speech for Best Musical or Comedy Television Series just to say hey to him. Scroll through Getty, and you'll see that several attendees—from Jean Smart to Colin Farrell—were eager to pose with Pitt. Vogue even lauded his haircut—which was, by and large, just a trim.
Basically, if you were one of few to tune in to the telecast, you don't need Yahoo! Entertainment to tell you he was the night's MVP.
By contrast, Twitter was not amused. On Wednesday, the hashtag, #BradPittIsAnAbuser, began trending on the platform, with many pointing out how bizarre all of the adoration was despite recent abuse accusations from ex-wife and mother his children, Angelina Jolie. "Brad Pitt is an abuser and none of his older children (the ones not legally obligated to) speak to him which should be very telling to all of you but Hollywood gonna Hollywood," one person wrote. "The fact that they're willing to throw away fucking Angelina Jolie over this man shows that no matter how mediocre a man is, as long as he was hot 25 years ago, he will always be put on a pedestal. Absolutely shameful," tweeted another.
The reactions have arrived just months after FBI documents regarding a dispute involving Pitt, Jolie, and their family, were made public, revealing that Jolie alleged abusive conduct of Pitt while onboard a private flight in 2016. As Jezebel reported in August:
The FBI investigative records, obtained by Rolling Stone, lay bare Jolie's account of the altercation in shocking detail. According to an interview summary, Jolie told FBI officials that Pitt's alleged outburst during a flight on the family's private plane was precipitated by his consumption of several alcoholic beverages while on board. At one point, Jolie alleges, he "poured beer on (Jolie) and the blanket she was under," and by the time the plane landed in Los Angeles, it had sustained $25,000 worth of damage from spilled red wine. She said the altercation occurred when one of their children (presumably Maddox) referred to Pitt as a "prick." The actor allegedly responded by approaching the child as if he was "going to attack," so Jolie "jumped up" and grabbed Pitt around the neck, "like in a choke hold," at which point he threw himself backward, flinging Jolie onto a row of seats.

Jolie also told officials that Pitt yelled at her, "grabbed her by her head," "pushed her into the bathroom wall," repeatedly struck the ceiling of the plane with his fist, and told her she was "fucking up this family." She likened herself to "a hostage" and claimed that when she suggested taking their children to a hotel to rest, Pitt replied: "You're not taking my fucking kids."

In October 2022, the New York Times reported that a more recent court filing from Jolie claims Pitt didn't just verbally assault and shove her—he also assaulted their children:
"According to Ms. Jolie's account of the 2016 flight in the court papers, the dispute began when Mr. Pitt accused Ms. Jolie of being 'too deferential' to their children and then began yelling at her in the bathroom. 'Pitt grabbed Jolie by the head and shook her, and then grabbed her shoulders and shook her again before pushing her into the bathroom wall,' the filing states. 'Pitt then punched the ceiling of the plane numerous times, prompting Jolie to leave the bathroom.'

When one of the children came to Ms. Jolie's defense, the court papers said, Mr. Pitt lunged at the child, prompting her to grab him from behind. Amid the altercation, Mr. Pitt 'choked one of the children and struck another in the face,' the suit said."
According to the court filings, an FBI investigator told Jolie he'd "concluded that the government had probable cause to charge Pitt with a federal crime for his conduct that day." However, as the previously sealed FBI report stated in its conclusion: "It was agreed by all parties that criminal charges in this case would not be pursued due to several factors." Jolie's attorneys have since claimed that their client didn't pursue charges as she was protecting their children, and only pushed for the documents to be made public via a Jane Doe suit after Pitt waged war over their once-shared chateau. "When Pitt filed this lawsuit seeking to reassert control over Jolie's financial life and compel her to rejoin her ex-husband as a frozen-out business partner, Pitt forced Jolie to publicly defend herself on these issues for the first time," her legal team said.
While neither Pitt, nor Jolie, has publicly commented on the FBI investigation, a "source" close to Pitt dismissed news about the public records by claiming Jolie and "her team" are "desperately trying to find something," and "this is all for show."

Welp, what is Hollywood if not one big show comprised of alleged predators, abusers, and their apologists?