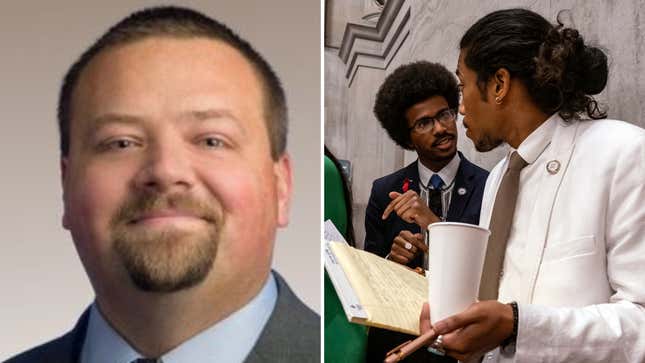 On Thursday afternoon, a bipartisan ethics committee in the Tennessee legislature found that Republican Rep. Scotty Campbell officially violated the chamber's sexual harassment policy. He resigned shortly thereafter, according to local station NewsChannel5. Just two weeks ago, Campbell made headlines for condemning three of his fellow state lawmakers for breaking decorum while protesting for gun control laws. After voting to remove all three from their positions in early April, he told local news channel WCYB, "If you were in court and behaved like those three did, you would have been found in contempt of court."
The committee's investigation revealed that Campbell, 39, made inappropriately crude and suggestive comments to an intern who lived nearby him. According to an email from one 19-year-old victim provided by a family member, after she and a fellow intern entered their apartment building, Campbell later "made comments about how...he was in his apartment imagining that we were performing sexual acts on one another and how it drove him crazy knowing that was happening so close to him." He also offered her weed gummies and told her how lonely he was, despite her insistence that he stop.

"I told him absolutely not, and he begged me for several hugs," the email read.
Earlier Thursday, when NewsChannel5 asked him about allegations made by one young woman, Campbell, who had been the vice chair of the chamber's Republican caucus, responded: "I had consensual, adult conversations with two adults off property"—inadvertently revealing that a second person (presumably also an intern) had registered a complaint about his behavior.

"I had consensual conversations that were agreed to, and I'm really surprised that we are here this morning," Campbell said, hours before he resigned.

NewsChannel5 reported that potentially thousands of taxpayer dollars have been spent relocating at least one woman from her apartment near Campbell's to a downtown hotel for the remainder of her internship.
Though it found that he'd violated the policy, the ethics committee didn't impose any consequences on Campbell, refusing to use its power to hold him accountable. The hypocrisy is maddening, coming on the heels of a majority of legislators voting to remove State Reps. Justin Pearson and Justin Jones, young Black Democrats, for protesting against gun violence following the Nashville Convent School shooting.
Plus, it's pretty rich for a man wasting taxpayer money to cover up his harassment of young interns to complain about decorum and behavior of his colleagues who were being vocal about young people's safety. Respectability politics serve as a mighty good distraction for actual issues, like children dying from gun violence.
Good riddance to now-former-Rep. Campbell.