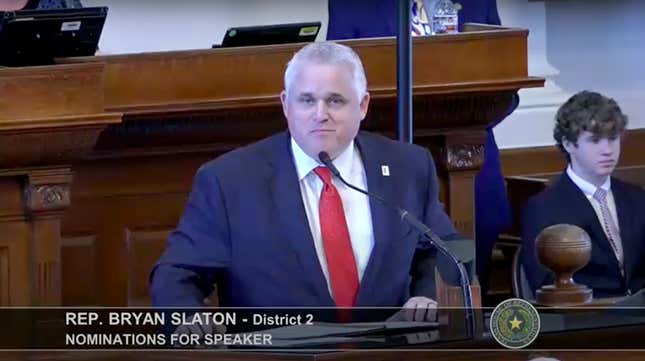 Texas state Rep. Bryan Slaton (R) allegedly had an "inappropriate relationship" with an underage female intern, according to an internal complaint obtained by the Texas Tribune. Slaton, who is married, allegedly called the intern after 10 p.m. on Friday, March 31, and invited her to his Austin apartment. A source who works in the Capitol with direct knowledge of the incident told the Tribune that the intern was under 21 and that Slaton drank alcohol with her. Two of his fellow Republicans have now called on him to resign.
Olivia Holt Didn't Originally Get the Part of Roxie Hart in 'Chicago'
A legislative staffer filed the complaint with the House General Investigating Committee. Per that complaint, Slaton comes pretty close to blackmailing the intern: He allegedly showed her fake emails that he claimed contained information about their meetup days later and then told her not to talk about it. Sources described it to the Tribune as "something of a loyalty test":
After the incident, Slaton allegedly showed the intern fake emails that purported to have information about the incident in what appeared to be something of a loyalty test, according to the complaint and a person with direct knowledge. After presenting her the email, Slaton allegedly told her to not speak with anyone about the incident.

Slaton, who was in the Capitol on Monday, declined to answer questions and referred to a statement put out earlier in the day by a criminal defense attorney he has retained.
Slaton declined the Tribune's request for comment at the capitol building on Monday. Patrick Short, a criminal defense attorney representing Slaton, called the claims outrageous and false. House Speaker Dade Phelan (R) said the chamber would investigate the matter. Republican State Reps. Briscoe Cain and Steve Toth have called on Slaton to resign.
Slaton graduated from Southwestern Baptist Theological Seminary in Fort Worth and, according to his website, has worked as a youth minister at several Southern Baptist churches in Texas. He had missed a key budget hearing on Thursday, which surprised insiders as he'd proposed a whopping 27 amendments. He was the only lawmaker absent, per the Tribune.
Slaton is, of course, vehemently opposed to drag shows and abortion. He introduced a bill, HB 4129, that would ban drag shows with minors present and has tweeted about drag shows leading to the grooming of children. He also loves to tweet the sentence: "We must protect Texas kids from sick adults who want to sexualize them."
Texas journalist Mary Tuma also noted that Slaton has filed several abortion bans this session. One particularly horrific bill is HB 2709, which would define embryos as people in the state's criminal code and allow abortions to be prosecuted as capital murder, eligible for the death penalty. The bill does not exempt pregnant people from prosecution, per Texas Monthly.
Another proposal from Slaton called for 40 percent property tax credits for heterosexual, married couples who have at least four biological or adopted children, and up to 100 percent for families with 10 children. To qualify, neither parent can have been divorced. He cited falling birth rates as the impetus for the bill.
Sounds like an all-around swell guy who should resign!