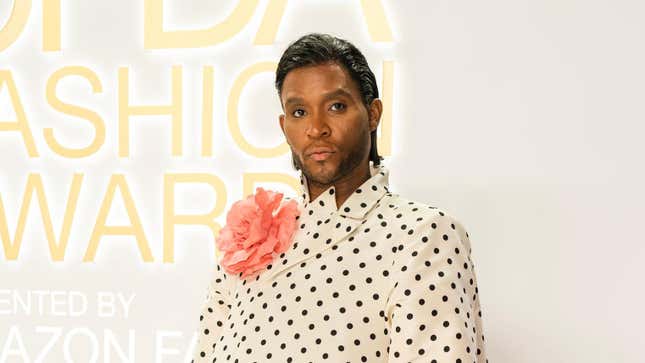 Three days after decorated celebrity stylist Law Roach suddenly announced that his work dressing celebrities was over, we are finally getting some answers about what was really behind that big, red "RETIRED" sign.
Grown-Up Money: the Purchases That Made Us Feel Like Adults
In a video interview published Friday, Roach sat down with The Cut's editor-in-chief, Lindsay Peoples Wagner, and revealed what really drove him out of the styling world. As one of the first Black stylists to work with the crème de la crème of celebrities, his departure from the space means the world of celebrity styling is once again just as white and one-dimensional as it always was. That sort of loss hurts everyone, but it also means that Roach, as he shares below, is at long last prioritizing his own peace of mind—something that is often impossible for Black creatives trying to flourish in a toxic industry.

As Roach once said Celine Dion said to him, "If anybody ever tries to stagger you or your creativity, let me know, because I want you to fly." This week's upheaval, apparently, comes from Roach giving himself permission to fly.

The interview itself was over an hour long, so we've pulled together some of Roach's most poignant and crucial points on a variety of matters, from Hollywood's difficult-to-manage gatekeepers, what it means to be Black in fashion, and where his relationship with Zendaya will go from here. As for some of his other clients wondering what this means for them, Roach has only this to say: "It means you have to get another stylist."

On whether or not he'll dress anyone for the Met Gala
"No Met Gala…Canceled."

Why Roach is retiring now
"I haven't been happy, honestly, in a really long time. And the culmination of everything that's been happening in my career these last few days kind of just pushed me over the edge.

"I'm very grateful that I've been able to move and climb in this industry the way I have. But I can't say that I didn't do that without suffering. And I think as Black people in this country, it's embedded in us to suffer, right? We feel like to be successful, we have to suffer. You suffer through things to get to the other side. You know, you suffer through Earth to get to heaven…And I think that's just in our DNA as African Americans, and I've been suffering for years…I don't wanna suffer no more."

What happened leading up to Tuesday's retirement post
...Oscars Week and building up to the Vanity Fair Oscar Party, is some of the most stressful times in the world. And I've always been a stylist that did multiple clients, so I'm trying to prepare for multiple clients that week. And I had a lot of pressure because of Meg [Thee Stallion] — it was her first time coming back and anybody seeing her since the trial. And so that was a lot of pressure, you know, because I wanted to make her feel secure and comfortable and make her feel and look as perfect as possible so that she can have the strength to do what she had to do.

So that morning I got a call from one of my clients, and it was her, her publicist, and somebody from a brand that I'm supposed to do project with, and I found myself on the phone with these three women, and I felt like I was defending myself because the one woman from the brand was like, 'Oh, he's not communicating, and you're not gonna have a dress,' and all these things. And it was just a lot of things that were not true.
Roach went on to explain that these sorts of miscommunications are how stylists lose clients. He said that he didn't feel like he was being "protected" in that moment, because he's never left anyone hanging without a dress. Rather, he puts his heart and soul into every single client, he said. That interaction for him was the beginning of the end: "I got off the phone, and I was like, I'm literally depleted from the day before. I'm an extreme empath, and I give everything to the point, after that night, I could barely finish a sentence. I had given so much."

On his relationship with Zendaya moving forward
"I also had someone that we had made a promise to each other that we would do everything in our power to elevate each other, and that's Zendaya. The way that we came into the industry, nobody wanted to touch either one of us. Like nobody wanted to lend me clothes. Nobody wanted to dress her 'cause, at that time, Disney girls wasn't considered real actresses. So we pinkie swore to each other that I would do my part. She would do her part. And we would do it together…

"People will say, 'Oh, you not gonna leave Zendaya.' But I don't have to style Zendaya to be a part of her team and her creativity team, right? So maybe if I choose, you know, not to be her stylist, I can still be her creative director and I can still, you know, manage a stylist or however I choose to do it. I haven't made a decision. She's giving me the grace to be able to make that decision because we really have a kinship. Like, you know, we've grown up together. And that's all I ever asked, was for people who I worked so hard for to just give me grace when I need it."

On Blackness in the celebrity styling industry
"When I started working with Anne Hathaway, I was the first Black stylist that was working with A-list white talent. And it was a big deal. It was a big deal in the community of Black stylists. I think what it did was show the industry that we are just as talented and that we can do talent other than Black girls. …I didn't dress Anne at the beginning; I dressed Anne when Anne is Anne. Anne is Oscar-winning, like, Anne is a movie star.

"Unfortunately, you get more opportunities when you get to the place where you're dressing white women. Just like everything else in this country, right? You're validated. Even my career, I'm validated by white establishments. I've never been—well, I won't say never —but I've never been invited to the BET Awards. I've never been given an award by Essence, or NAACP…I wasn't even invited to NAACP. ...I've never been celebrated by my own people. It doesn't matter until you're validated by the white establishment. And I've been lucky to get that validation, but it would mean so much more to me, to be validated and appreciated from my own people."
On that LVMH video: "There's no beef"
You can read Law's full explanation below, but basically…They were running late to the show, Law couldn't find his seat, and no one was miffed!

So we left on time, but I don't know if our driver went the wrong way, but we got stuck in traffic. Also the way we came in, it was a long walk actually to get your seat. It was a long walk. So it was a lot of anxiety, because Zendaya is really respectful and she doesn't like people to have to wait on her…So the Vuitton team was like shuffling us as fast as possible to the seats. And so what happened was—we have to remember that we just came from a house where she was the only face, the only ambassador. Even for years, like, I'm always used to sitting next to her. And so, in my mind, my seat was next to her. So when I got there and it wasn't, you know, it wasn't a problem, but there was nobody to tell me where my actual seat was. And so the seat behind her, when you see her turn around and touch the seat, it wasn't her telling me to sit there, it was her telling me like, "That's Darnell's seat," which is her assistant. I'm not gonna sit in Darnell's seat.

…And somebody was like, "Law, you have to sit," and I was like, "I don't know where I'm sitting." That became really tough, because it made people think that Zendaya wasn't taking care of me and wasn't making sure I was taken care of. And then it became this thing with Delphine Arnault [a Dior and LVMH executive]. I was like, Where did that come from? ...Delphine and the Arnault family have been so kind to me. Like, even after the show, we went to the after-party. I had a whole conversation with her and congratulated her on her move to Dior. She sent me a beautiful bag, and it's like, there's no beef.
What's next for Law
Following his modeling debut in this week's Boss runway show, Roach said he's trying to meet an upcoming deadline for a book he's been working on, and has been made the creative director of a footwear brand, though that has yet to be announced. He's also aiming to do more "personality-driven" work like red carpet anchoring. Besides, he said, "If I fail at everything else, then I fail at everything else. We know I'm a good stylist, so shit. I always got a job."