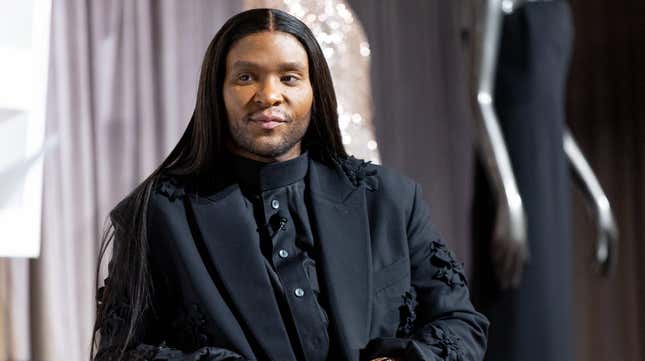 Less than 48 hours after Law Roach gave the fashion industry a panic attack so unwieldy Xanax prescriptions in New York City probably increased tenfold, the enigmatic celebrity stylist is setting the record straight. Roach will be retiring from celebrity styling, just as his Instagram post on Tuesday promised. But he will not be retiring from fashion at large.

Jasmin Savoy Brown Thought She'd Be the Killer in 'Scream V'I
Backstage at the Boss spring 2023 runway show in Miami on Wednesday night, Roach told Vogue that his pivot to other areas within the fashion industry would begin immediately, starting with his debut as a runway model that evening. "I am excited and nervous. And deeply grateful," he said. "I'm grateful that the Boss team sees me as more than just someone who dresses all these amazing celebrities."
"I'm not saying I'm retiring from fashion. I love fashion. I love the businesses, and I love being creative," he continued when asked to clarify the nature of his retirement. "What I'm retiring from is the celebrity styling part of it: the being in service and at service of other people."

Roach, who's been a celebrity stylist since 2014, told Vogue that he made the decision to retire while he was riding in a car on Tuesday. And why not? He's "done everything I wanted to do in this career" and received all the accolades he could've dreamed of. But when he took a step back to take stock of his life, he realized that he'd put his clients above his "own health and happiness," and that he didn't have anything outside of his career. "I don't want that to be the legacy," he added. "I just feel like, I've had enough, you know? So that Instagram post wasn't a PR stunt. It was really me giving myself the grace to say: It's okay. You can do something else."

Following his surprise retirement announcement, the public became fixated on rumors that a front-row snub from his star client Zendaya may have been the last straw for Roach. But Roach put those rumors to bed, too: He tweeted Wednesday night that he and Zendaya are "forever." "She's my little sister and it's real love not the fake industry love," he wrote in a follow-up tweet.
Such a high-profile departure from the styling industry doesn't come as a surprise to marginalized folks, who have repeatedly pointed out how toxic fashion can be for designers and creatives of color. And for Roach, that exaggerated pressure to succeed, both internally and externally, nearly broke him:

"If you have never experienced being a child and going to bed hungry, you will never understand the reason why I work the way I work. I still wake up every morning with that gut-wrenching feeling that this can be over and I can go back to where I came from. And where I came from was nothing, you know? So that's the reason why, in my own mind, I felt like it was okay to put myself on the back burner for everybody else. Because I feel I have to work harder and be better than everybody else. And because I've been that little boy that went to bed crying because there just wasn't enough food for me to be full. So that's the bag I work out of, you know? And everyone's like: 'well, you don't have to think that way.' But if you've ever felt that feeling, it never goes away."
For the time being, Roach said he's still figuring out what's next, including whether he'll continue on in his role as the West Coast Editor of British Vogue. He hopes to participate in more runway shows and, most importantly, wants to teach: "I want to be more involved with people who look like me who want to figure out how to have the opportunity to do things that I've done, right?" he said. "I want that to be my legacy, a legacy that I really helped change people's lives—and not just the celebrities' by putting them in the best dress, you know?"