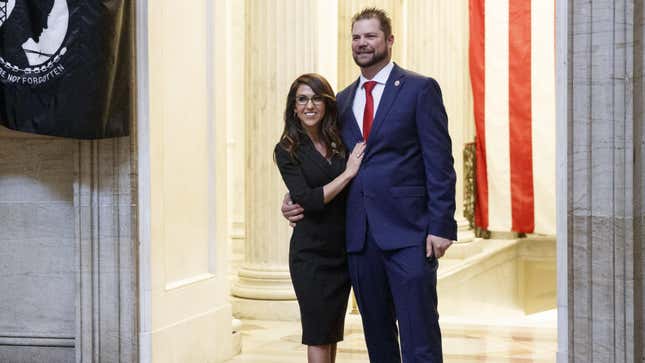 A week after Rep. Lauren Boebert (R-Co.) announced her divorce from her husband of nearly 20 years, Insider reports that in December, one of the former couple's three young sons called the police on Boebert's husband, Jayson, sobbing and telling them in a two-minute call that Jayson was "throwing" him around the house.

Luke Macfarlane Talks Starring In Historical Gay Rom-Com 'Bros'
The Dec. 11 call, obtained by Insider, ended after a couple minutes, with deputies from Garfield County Sheriff's Office dispatched to the Boeberts' home. But then, Boebert's son called 911 again, this time to take back his claims from his previous call. The Congresswoman also took the phone and told the operator her son "doesn't need help."
Insider reports based on audio of the call that Boebert and Jayson's son told the 911 operator he'd been living in a farmhouse on the family's property, separate from their main house, because his family was having "problems." He was audibly struggling to breathe, gasping for air, and sobbing. When the dispatcher asked if Jayson was being violent toward him, Boebert's son replied, "Yes, he was throwing me across..." He added that Jayson "called me a psycho, when he's the…," trailing off, again, before completing the sentence.
Boebert's son also confirmed to the dispatcher that "there are weapons in the house, yeah, but I don't think he'd use them on me," and, still crying, added, "He just does this to me so much." But then, in a follow-up 911 call, he walked all of this back: "All I wanted to say was is me and my dad were starting to yell. He didn't really get physical with me."
Boebert herself then took the phone: "Hi, I'm the mom. … There was an argument over dinner. I understand you guys've got to come and talk to them." She told the dispatcher she was "getting ready for an event" and that her son "doesn't need help," but affirms that police "can come here" for a wellness check.
A police log of the incident obtained by Insider shows that Jayson confirmed he and his son had gotten into an argument. It seems Boebert was also living with her son in the farmhouse on their property, per the police log. Jayson denied being physically violent but suggested "maybe the door touched his butt on the way out."
There were no physical marks found on Boebert's son, who told police that he didn't know why he'd claimed Jayson hurt him, and police deemed that no crime had been committed.
In a statement to Insider, Jayson said his son had "overreacted," but that they're "back to being a family." He continued, "All I do is work and come home and try to raise everyone." Boebert told Insider in her own statement, "The safety and well-being of my family are the most important things in the world to me. We've had some tough times and heartache. I've taken action to ensure there are better days ahead for all of us."
Just four months after the incident, Boebert filed for divorce from Jayson at the end of April, and announced the divorce last week, a couple months after they attended CPAC together and were photographed holding hands. Jayson didn't seem to be aware of the divorce. In texts to a Daily Beast reporter, he said, "The divorce is sad, I did not expect this, I love her with every bit of my heart, she has been my soul mate and she is the mother of my Children." He concluded, "We have been through a lot together and I just want her to be happy. So it's what ever she wants."
When he was served with divorce papers, notably at a different residential address than where Boebert was living by April, court documents show the process server described Jayson as "extremely angry" and threatening.
"I tried to hand him the documents but [he] did not take them. He started yelling and using profanities, and told me that I was trespassing, and that he was calling the Sheriff's Office," the process server said, per the court documents. "I told him I was leaving the documents on the chair outside of the door, he closed the door then let the dogs out." He also alleged Jayson had been drinking beer and cleaning his gun while being served.
Jayson has had previous run-ins with law enforcement over alleged violence and misconduct. In 2004, he was arrested for and pleaded guilty to public indecency and lewd exposure after exposing himself to two girls at a bowling alley. Boebert wrote in her memoir from 2021 that she was proud of Jayson, because he "needed the alcohol and anger management classes that came with the plea deal" for this incident.
Boebert and Jayson were both arrested for separate incidents of alleged domestic violence toward each other that same year. A month after the alleged flashing at the bowling alley in 2004, Jayson was arrested for a domestic violence charge, and a few months later, Boebert faced third-degree assault, criminal mischief, and underage drinking charges. Just last summer, the Boeberts' neighbors called the police on Jayson and accused him of threatening them and running over their mailbox while intoxicated.
In the context of Jayson's history of alleged violence and messiness, Insider's reporting on his son's call to the police is especially chilling. And it certainly offers a glimpse of the problems and possible threats that might have led to the Boeberts' separation and divorce.