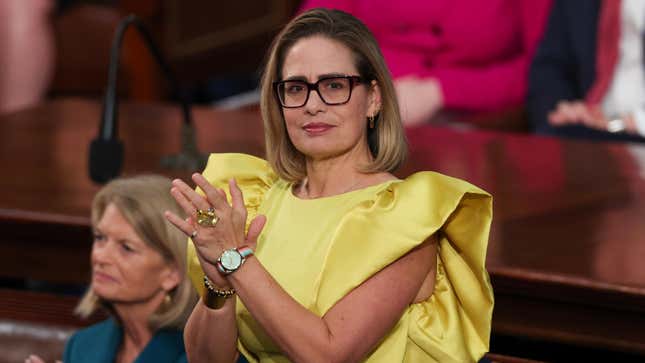 Sen. Kyrsten Sinema (I-Ariz.) faces an increasingly difficult (likely impossible) reelection bid next year—complicated, of course, by her own terribleness. After exiting the Democratic Party earlier this year to become an Independent, Sinema insisted in a Friday interview with CBS that she's not actually just becoming a Republican. But she also doubled on her attacks on the Democratic Party.
The Filibuster is Standing in the Way of Abortion Access
"One of the unfortunate things that's happening in Arizona, and we see this in other parts of the country as well, is that the two political parties have gotten more and more extreme. They've moved away from that center of working together and finding that common ground," Sinema said. She added that "both political parties are twisting stories to create their own narratives, which may or may not be true, and we see it every day."
Sinema, meanwhile, has been schmoozing with Republican lobbyists for money, bragging about skipping Democratic caucus lunches, and writing off her Democratic colleagues as "old dudes eating Jell-O."
I can't emphasize enough that criticizing Democratic Party leadership is good and important—but claiming the two parties are equally extreme is just bizarre in the wake of the Jan. 6 insurrection and as election denialism continues to fester, particularly in Sinema's state of Arizona. On the one side, we have Republicans denying the outcome of an election, attempting to erase millions of votes disproportionately from voters of color, advocating for the jailing of abortion providers, and effectively calling for trans people and drag queens to be criminalized. On the other side, the "extremism" Sinema seems to be referring to on the left is… growing support for universal health care, a living wage, and ending the filibuster so we can have a fighting chance at passing legislation to enshrine reproductive rights on the federal level.
Sinema's Democratic rival for her seat, Rep. Ruben Gallego (D-Ariz.), pointed out her own extremism in a tweet on Saturday: "Sinema stands on the side of the people that want to ban abortion completely," he wrote, linking to an article on her hard-line stance against filibuster reform, which makes it difficult for Democrats in Congress to do much of anything.
Last year, Sinema lost the support she'd long had from EMILYs List, an organization that supports, trains, and fundraises for pro-abortion Democratic women candidates. In a statement at the time, shortly after Sinema effectively tanked a crucial voting rights bill, EMILYs List President Laphonza Butler characterized Sinema's stance as ​​"not only a blow to voting rights and our electoral system but also to the work of ... her constituents who tried to communicate the importance of this bill." She continued, "As a result, as we noted earlier this week, we will no longer be able to endorse Sen. Sinema moving forward."
To Gallego's point, in sabotaging the voting rights bill last year, Sinema also aided the anti-abortion movement: Abortion ban are enabled by voter suppression, a major factor in why these widely unpopular laws keep passing, despite their broad unpopularity. These laws only pass because gerrymandering, voting restrictions, and other tactics systematically suppress the votes of marginalized people in these states, and politicians like Sinema are a big reason why nothing ever changes.