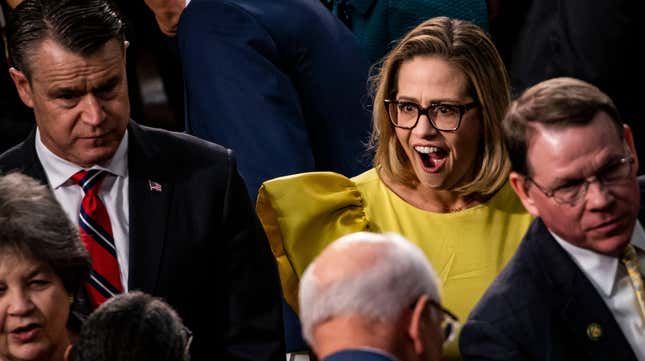 Kyrsten Sinema, the now-Independent senator from Arizona, has yet to say whether she's running for re-election next year, but she is apparently begging Republican donors for money and trashing members of her former party to boost said fundraising drive.
The Filibuster is Standing in the Way of Abortion Access
A new Politico story claims that Sinema is "rac[ing] to stockpile campaign money and post an impressive, statement-making first-quarter fundraising number"—her first quarter since leaving the Democratic party. Some of Sinema's friends told Politico they think she'll retire rather than run again and very possibly lose, but that isn't stopping her from lobbing insults at her colleagues and talking openly about how she's using them for her own gain.
She reportedly told a group of Republican lobbyists recently that she stopped attending the "ridiculous" weekly Democratic caucus lunches. "Old dudes are eating Jell-O, everyone is talking about how great they are," she said, apparently to laughter. "I don't really need to be there for that. That's an hour and a half twice a week that I can get back."
First of all, she's talking as if Republican senators are not also a bunch of extremely fucking old, self-centered dudes. But more to the point, what exactly is Sinema going to do with her newfound time? We know she's not actively working to make Arizonans lives better, given her infamous thumbs down curtsy to raising the minimum wage and her watering down other key legislation. I imagine she'd use it to do more of her current activities, like selling her marathon training gear on Facebook Marketplace, entering Instagram sweepstakes on main, wearing a sheep carcass to hobnob with billionaires, bragging about blocking any kind of progress, and not holding a single town hall with her constituents.
One moderate Democrat told Politico that, contrary to her characterization of Democrats, it's Sinema who is "the biggest egomaniac in the Senate." And she even admitted that she's obnoxious, apparently telling a group earlier this year that she didn't understand why other lawmakers didn't exploit the 50-50 Senate to be a "pain in the ass" like her.
Politico says that Sinema's "sniping spree" has made some Republicans hopeful that she could be convinced to caucus with them rather than the Democrats (she isn't even really caucusing with the Dems, just "aligning" with them to keep her committee seats). Senate Minority Leader Mitch McConnell (R-Ky.) isn't convinced and is reportedly trying to recruit "a non-controversial Arizona Republican" to run in 2024 who could win moderate voters, but, uh, good luck with that in Kari Lake country. The piece quotes Utah Sen. Mitt Romney (R-Utah) as saying McConnell should be negotiating with Sinema to welcome her into the GOP fold.
Per this story, she's already walking and talking like a Republican: "And when a Republican donor told the Arizona senator that it was not Manchin but Sinema who 'carried the water for us in this last Congress,' she responded: 'You're hired.'"
It sounds like Kyrsten is well on her way to becoming a GOP lobbyist herself.