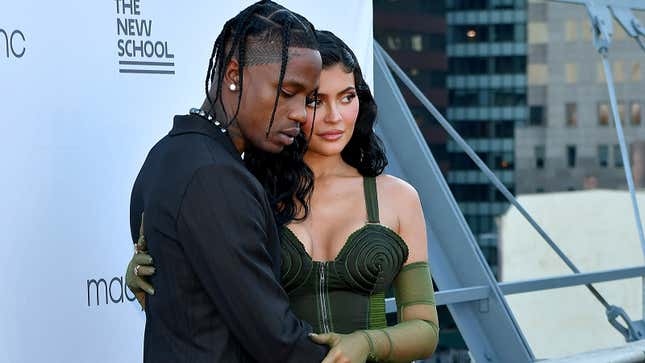 It's like 2019 all over again, and not just because basically no one is wearing masks in public anymore. Self-identified billionaire Kylie Jenner has reportedly split from rapper Travis Scott...again. When Jezebel reported the news of their last (known) breakup in 2019, we ran with the headline: "Kylie Jenner and Travis Scott are Over (Again!)." Can you spot the pattern?
Us Weekly's anonymous source could. The site first reported the couple's latest split with this quote doing the heavy lifting:
Kylie and Travis are off again, they were supposed to spend the holidays together, but she went to Aspen to be with her family and friends up there. This has happened so many times before, they're known to be on again off again, but always remain friends and great coparents.
If they're known to be on-again-off-again, aren't they just...doing their thing? Isn't this just their love style? Won't it be just a matter of time before these two find their way back to each other, like so many archetypical lovers throughout history have (for example, Grease's Sandy and Danny, and for another example, Judge Judy and Jerry Sheindlin)? You might have heard of roaching, cobwebbing, bae-realing, winter-coating, and hardballing. Perhaps now on trend for 2023 is zombie-ing—refusing to just let it die.
In October, Scott rather publicly (and, ahem, unconvincingly) denied cheating allegations made by Instagram model Rojean Kar, who had also been implicated in the Jenner-Scott breakup of 2019 (as it will be referred to as in history books). Buckle up, there is a zero percent chance that this is the last we'll hear of their conscious uncoupling and recoupling. Those crazy kids!
---
Killer-doll satire M3GAN did a better-than-expected $30 million gross its first weekend in theaters. Slay queen! (A sequel is reportedly already in development.) [Deadline]
Jane Fonda on meeting Tom Brady, whom she worked with in 80 for Brady: "My knees actually got weak when he walked into my trailer." [The Hollywood Reporter]
Jessie J is pregnant! Congratulations (sung with a bunch of extra syllables dripping with melisma) are in order! [People]
Adam Rich, of Eight Is Enough, is dead at 54. If you're too young to know who that is, well, I guess now you never will. [New York Times]
While promoting his memoir Spare, Prince Harry referred to his father's second wife Camilla, Queen Consort, as "dangerous" for allegedly leaking stories about herself to the press to rehabilitate her image. Imagine someone using the press for their own selfish interests!!! [CNN]
Now that Avatar 2 has turned a profit, director James Cameron says, "I'm gonna have to do the sequels." Well, with that attitude, the next three (three!) movies are bound to be great! [Variety]
Hailey Bieber says that her mini-stroke of 2022 was "definitely the scariest thing I've ever gone through." Best of luck to her in all her future endeavors. [Page Six]