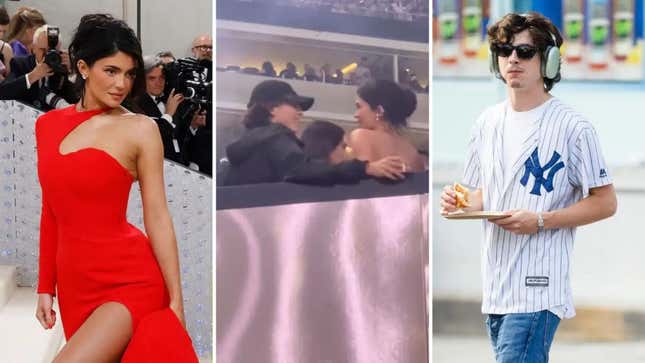 The who's who of Hollywood (and Montecito) spent their Labor Day weekend pretty much doing the opposite of honoring all the little people that make their lifestyles possible, or, say, showing up on the WGA and SAG-AFTRA picket line. Instead, scores of them celebrated by attending Beyoncé's birthday show on the Renaissance Tour.

The People's Couple, Zendaya and Tom Holland made it a date night with the former's mother; Chris Rock hitch-hiked from Burning Man just to be on hand; Jeff Bezos took a break from making out all over the world on his mega-yacht to snap selfies with Kim Kardashian (who, evidenced by this video, hasn't heard a single track from Renaissance); and Lizzo left that looming lawsuit behind.
But it was Kylie Jenner and Timothée Chalamet who stole the show—technically, it was Diana Ross, but you get it!
The unlikely couple made their public debut at the tour stop after months of speculation that they were seeing each other—or that they'd even exchanged more than two sentences. Naturally, some fans—and a reporter for The Hollywood Reporter—recorded a few seconds of Jenner and Chalamet's interaction at the show. In one video shared by Pop Crave, the pair are seen chatting with Jenner's sister, Kendall. Chalamet slings an arm over what I assume is a VIP section (it looks to be positioned high above the plebeians, so) and puffs enthusiastically on a cigarette.
All evidence of Jenner and Chalamet's attendance was about as scintillating as you'd expect (which is to say, not at all) until photos of them sucking face hit Twitter on Tuesday morning. In footage obtained by TMZ, they were snapped by fellow concert-goers (Jenner's mother, perhaps?) not once but twice (!) getting a little heated. Personally, I've seen more interesting make-outs between two young, hot, famous people (one being Chalamet and a certain dirtbag's daughter). I mean, he may have stomped out his cigarette, but he didn't even put his drink down. Oh well, at least these two weren't in front of a brick wall backdrop...
The debut arrives just one month after Life and Style reported that the pair—who first sparked dating rumors in April—had broken up. Hours after that report was published, TMZ disputed it, claiming that "multiple sources" confirmed the romance was still very much on. Of course, all of the said sources remain anonymous—and likely have a very famous last name—but I think it's now safe to say the skeptics have been silenced for the time being.
---