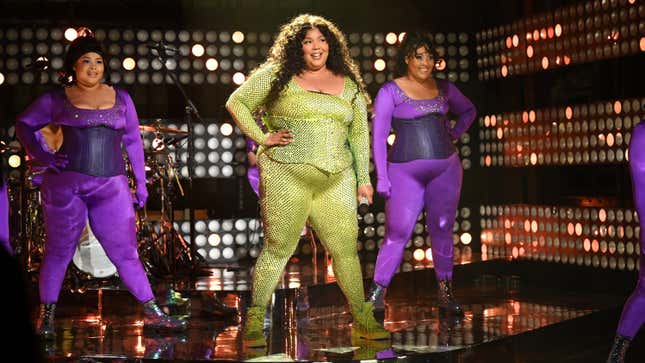 Three of Lizzo's former dancers filed a lawsuit Tuesday morning in Los Angeles County Superior Court against the performer; her production company, Big Grrrl Big Touring, Inc.; and Shirlene Quigley, Lizzo's dance team captain. Arianna Davis, Crystal Williams, and Noelle Rodriguez allege that the defendants created a hostile work environment through sexual, religious, and racial harassment, along with two separate lewd incidents involving a banana.
"The stunning nature of how Lizzo and her management team treated their performers seems to go against everything Lizzo stands for publicly, while privately she weight-shames her dancers and demeans them in ways that are not only illegal but absolutely demoralizing," the plaintiffs' lawyer, Ron Zambrano, said in a statement. Lizzo's team did not respond to Jezebel's request for comment.

The details of the suit describe Lizzo questioning Davis' commitment to her position because of weight gain as well as pressuring the dancers to interact with nude performers in Amsterdam's red light district against their will.
LIZZO hounded her employees to catch dildos ejected from performers' vaginas. LIZZO cheered loudly to motivate employees to eat bananas protruding from performers' vaginas.
In related banana harassment, the suit says Quigley, who allegedly regularly discussed her own sex life and inappropriately interrogated the dancers over their own, had a "party trick" in which she would perform oral sex on a banana in front of the dancers.
Both Davis and Williams joined Lizzo's dance crew through the Amazon reality show hosted by the performer, Watch Out for the Big Grrrls. In April 2023, Williams contested Lizzo's allegation that the dancers were drinking before performances, which led to a tense back and forth between the two women. Five days later, she was let go because of "budget cuts."

On May 3, 2023, about two weeks after Davis says her "commitment" was questioned (which she felt was thinly veiled criticism of her weight), she claims she was fired on the spot after Lizzo discovered she had made an audio recording of performance notes she'd been given.
The third plaintiff, Noelle Rodriguez, says she quit in response to the poor treatment of her teammates as well as intense religious proselytizing from Quigley. Quigley allegedly made it her mission to preach Christianity to Rodriguez, and when Rodriguez brought this up to management at the production company, nothing was done. When Rodriguez also spoke up about the firings of Davis and Williams, she claims she was told, "We've never had any problems with you." The suit says "that Ms. RODRIGUEZ, one of the few members of the dance cast who is not black, was not painted with the same generalized and unfounded criticisms as the black members of the dance cast."
After news of the lawsuit broke, other people who've worked with Lizzo corroborated the plaintiffs' claims. "I'm not apart of the lawsuit - but this was very much my experience in my time there… I very much applaud the dancers courage to bring this to light," former Lizzo backup dancer Courtney Hollinquest wrote on her Instagram story. Lizzo's former creative director, Quinn Whitney Wilson, shared the news story to her Instagram story and added, "I haven't been a part of that world for about three years for a reason. I very much applaude [sic] the dancers courage to bring this to light. And I grieve parts of my own experience."
We will update this story with any response we hear from Lizzo or her team.