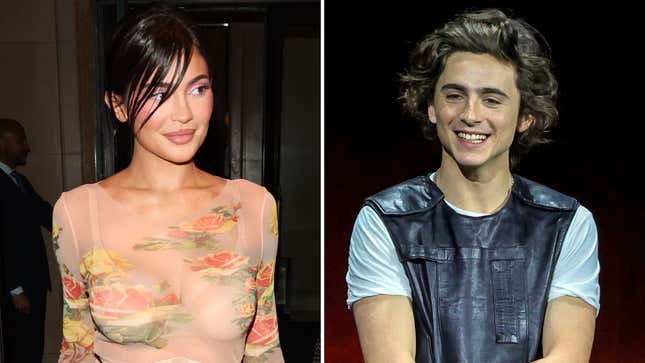 For whatever confusion and annoyance Kylie Jenner and Timothée Chalamet's situationship is causing each other, it's causing us—the people, the public, the peasants—quadruple the amount of confusion and annoyance. Almost a month after reports that the unlikely couple split, the reports are now reporting that they were both spotted leaving Chalamet's Beverly Hills mansion just minutes apart.

Both the Daily Mail and Page Six published photos of Jenner leaving down the driveway in her Cadillac Escalade on Saturday, five minutes after Chalamet pulled out in his Lucid electric sedan. The cars' windows are tinted, and both publications write that the two crazy kids were wearing face masks—to seemingly hide their faces despite being in their recognizable vehicles leaving Chalamet's known residence?—so it's hard for me to personally confirm, using my own eyes, that it's either of them in these cars. But if the DM and Page Six say it's them, then so it is.
On Thursday, the DM also spotted Jenner arriving at Chalamet's home in her Mercedes Maybach. It's unclear if Jenner stopped by for a hang or a two-night sleepover...or to grab some of her stuff.
The whirlwind romance that may or may not be all began in April when Deux Moi first posted a tip that the two were seeing each other. It continued to be all speculation and rumor until, about a week later, when they were photographed on what was described as a "low-key taco date." Then in June, photos revealed that they were maybe hanging out with each other's sisters. Also Timmy maybe (again, maybe) gave Jenner a hickey. It's been a weird summer.
But the universe seemed to correct itself when, on August 2, Life & Style "exclusively" reported that it was all over. "She's telling people that things between them naturally fizzled out because they're both busy and traveling," a "source" told the magazine. "But friends are whispering that Kylie got dumped." Then, hours later, TMZ called bluff on the exclusive, reporting that the pair were "still a thing" and that their multiple sources said that "any reports that say otherwise are false."
And that's all she wrote.
---