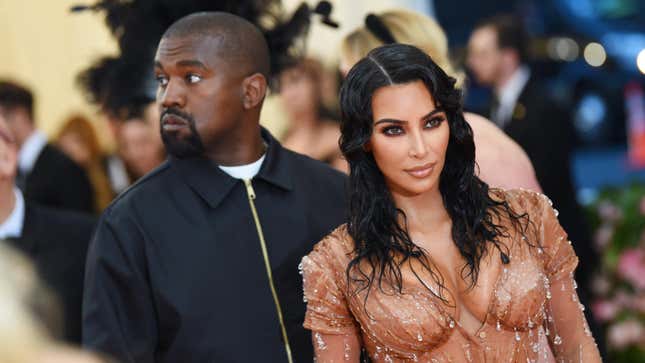 I don't know why you, the readers of Jezebel dot com, love reading about Kim Kardashian and Kanye West so much (every comments section on every blog about them is like "mmmmm yes could I please have one (1) more of this?" and "love it when Jez covers Kimye, personally"), but here you go! "By popular demand," she wrote, hoping that the intended irony would come across quite legibly.

Watch Alex Jones Realize He's About to Get Busted For Perjury
Anyway, Kim and Kanye might not be over! At least, that's what TMZ is saying. A source told the outlet that the two are "working on rebuilding the foundation of their relationship." So, I guess that means their whole wedding dress stunt at the latest Donda listening party might not have been fully a stunt? I mean, besides the way that literally everything Kim and Kanye do is a stunt.
---
Speaking of the aforementioned Donda listening party, Kim's publicity team appears to be in full-on damage control mode, telling every tabloid that will listen that she totally wouldn't have shown if she'd known that repentant homophobe DaBaby and alleged serial abuser Marilyn Manson were also going to be there. [People]
Some unnamed insider says that Rihanna and A$AP Rocky are "so madly in love" and that "there's a lot of buzz in their circle about an engagement being in the works." Also, it might be soon? But also it might be never?? "They see each other as life partners," the source continues. "They don't need a piece of paper to be happy, but Ri's a real romantic and her friends and family—her mom, especially—would love to see her married." [Us Weekly]
Now, I'm not saying that Rihanna's mom, Monica Braithwaite, called up Us Weekly while pretending to be some anonymous insider in order to further mom-guilt her unwed daughter into finally getting hitched. I'm merely suggesting its possibility, perhaps. Regardless, shout out to moms! [Mothers Enthusiast Quarterly]
JoJo Siwa wants to play Lady Gaga in a biopic someday. I think I speak for everyone when I quote the legendary, Oscar-winning Mo'Nique and say: I would like to see it. [Variety] 
Harvard is "educationally abusive," says Teen Mom alum Farrah Abraham. [Page Six]
James Corden, Camila Cabello, Billy Porter, and Idina Menzel did a flashmob in the middle of Los Angeles traffic to Jennifer Lopez's "Get Loud." What are my rights? [The Independent]
Said flashmob set to the song from Annihilation, courtesy of New York Times reporter Kyle Buchanan: