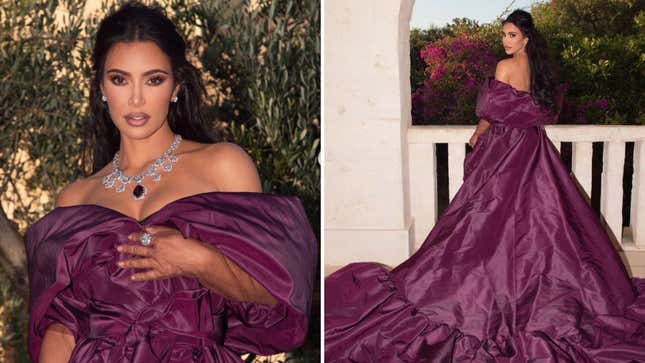 Kim Kardashian—a WGA picket-line crosser whose love of snake emojis and recording devices helped inspire Taylor's reputation—was in Italy over the weekend for Dolce & Gabbana's Alta Moda show and celebration in Puglia. She hung out with her mom, Kris; she wore diamonds; she seemingly continued her feud with sis Kourtney over which one of them actually owns Italy; and she (seemingly, definitely, basically) promoted Taylor Swift's latest album.

Britney Spears Escapes Family Drama By Going to First Bar
Of course, it might just be a coincidence that the same weekend that Swift released Speak Now (Taylor's Version) Kardashian pops up wearing a gown that's the exact color and style of the album's purple vibe. But Swift loves Easter eggs and Kardashian loves an attention-grabbing, clickbait headline so, together, it seems like Kardashian's giant purple D&G dress was for sure her telling us that she really loves Speak Now (Taylor's Version) and you should go stream it if you haven't already!
On Sunday night, Kardashian posted nine images in an Instagram slideshow, all of herself in the billowy royal purple dress, with the caption, "DOLCE & GABBANA ALTA MODA in Puglia." That caption contains the four letters that spell "Mean"—a song on Speak Now, and also how Kim acted when she did all that snake stuff to Taylor in 2016. This post certainly feels to me like it was a nod to the 22-song re-record!!
The first image might as well be captioned "You're the kind of reckless that should send me running"; the second shows Kardashian making the same over-the-shoulder pose that Taylor makes on the album cover. The fourth photo is of her and mom, Kris Jenner, which feels very "Mine" to me. (In that they'd sing to each other "You are the best thing that's ever been mine!" but in a sweet non-creepy way.)
Kardashian attended another event Sunday night, wearing a black-veiled goth look—a look which she noticeably did not post nine images of to Instagram. Curious! (Though the look was somewhat similar to one of Kourtney's wedding-weekend outfits from 2022... so the question of who owns Italy remains unanswered. But it seems like, at least for now, Kim has a better relationship with Dolce.)
Swift, for her part, celebrated the release of her entirely self-written album and third re-record at her two-concert stop in Kansas City over the weekend. She premiered the music for "I Can See You," invited the video's stars, Joey King and Taylor Launter, onstage, and, of course, wore a brand new big, billowy, purple gown. (Hers was better that Kim's, IMO.)

In January, Kardashian posted a TikTok (badly) dancing along to Swift's "Shake It Off" with her daughter, North—a move which signaled, to me, that Kardashian regrets everything and is embracing being a Swiftie. And this dress further confirms my theory.