A hearty congrats is in order for the young man who has taught every prepubescent, premature-ejaculating boy that if you can't force Kate Upton to go to prom with you, you can still get a ringer.

Jake Davidson is the "adorable" high school kid who made a viral video asking burger-loving, non-Diddy-dating Kate Upton out to his prom a few months ago. She toyed with the idea on Twitter but then realized it'd probably be kinda gross and that she has a busy schedule.
Well, tonight is Jake's prom; he's probably putting on a boutonniere right this second. And although Kate rejected him, the kid won't be going alone. He will be attending prom with 21-year-old Nina Agdal. Nina is a Danish model that was recently named Rookie of the Year in the Swimsuit Edition of Sports Illustrated. She also has her own pervy Carl's Jr commercial, wherein she is featured on an island with her legs spread and a burger in hand.
Agdal's willingness to go on a date with this kid is clearly a calculated PR move designed to up her popularity quotient. She invited Inside Edition to join her as she went shopping for her prom dress; cameras will probably be there when Jake meets her for the first time. The end result? Every single Superbad, She's Out of My League, The Girl Next Door-style teen boy fantasy movie comes to life.
Both New York Magazine and Slate have covered how creepy and wrong it was for this kid to ask and expect a date from Upton. Kat Stoeffel of the The Cut wrote:
[Upton] takes a stand on behalf of women everywhere, who risk appearing bitchy if they choose not to acquiesce to a man's request....her "yes" would have reinforced the idea that women owe something - attention, time, sex - to men just because they've asked nicely. Or paid a compliment. Or bought a drink.
G/O Media may get a commission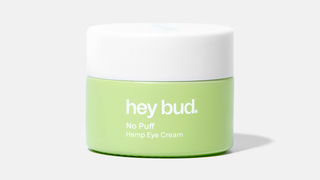 15% off
Hey Bud - No Puff Hemp Eye Cream
It's annoying that this kid, despite a reasonable rejection from a busy model/actress, gets a second chance from an equally hot model. No one is entitled to sex because they asked nicely and/or on the interet, but thanks to this kid, they might be entitled to a night with a smoking hot babe.
UPDATED: here's a picture of the little boy with Nina. Wow. Makes sense, you know?!
Teen's Prom Plea to Kate Upton Lands Him Top Model Date [ABC News]
Image of Nina via Sports Illustrated.