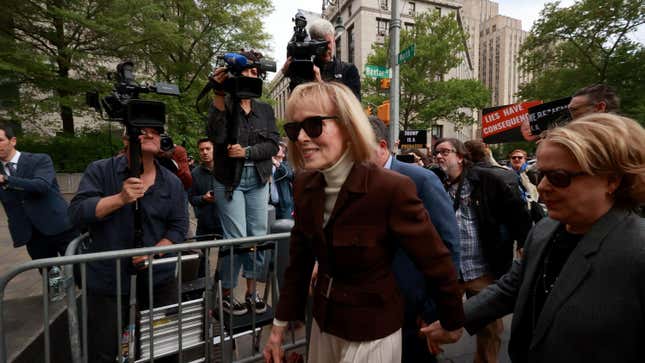 A New York jury decided in May that, according to the state's legal definition of "rape," Donald Trump didn't rape writer E. Jean Carroll in the 1990s. Instead, the jury ruled that Trump was civilly liable for sexually abusing and defaming Carroll, and awarded her about $5 million in total damages. However, just because Trump's assault didn't rise to the law's definition of rape doesn't mean he didn't rape her, as understood by the general public, Judge Lewis A. Kaplan wrote in a opinion filed Wednesday. As a result, Trump has been denied a new trial in this matter, though his appeal is still pending.
Ted Cruz Won't Commit to Pleasuring a Man to End World Hunger
These case stems from an incident in the mid-1990s in which Trump "shoved" her "against the wall" of a Bergdorf Goodman dressing room, Carroll testified during the trial. She said that Trump digitally penetrated her, "which was extremely painful," and "then he inserted his penis." Despite this happening nearly three decades ago, Carroll was able to bring this lawsuit because New York passed a law instituting a one-year window for survivors of sexual violence to sue their accusers, even after the statute of limitation had expired.
Trump's legal team argued that the unanimous jury's $2 million compensatory damages was "excessive" because the jury didn't find that Carroll was raped by Trump, only groped. "While Mr. Trump is right that a $2 million award for such groping alone could well be regarded as excessive, that undermines rather than supports his argument," Kaplan wrote.

"Rape" is a narrow part of penal law in the state that applies to forcible vaginal penetration only by a penis. As Kaplan wrote, penetration by the fingers, which the jury agreed happened to Carroll, is called sexual abuse in New York.

"The finding that Ms. Carroll failed to prove that she was 'raped' within the meaning of the New York Penal Law does not mean that she failed to prove that Mr. Trump 'raped' her as many people commonly understand the word 'rape,'" Kaplan wrote. "Indeed, as the evidence at trial recounted below makes clear, the jury found that Mr. Trump in fact did exactly that."
The jury didn't dole out an award of millions of dollars for no reason, he continued:

This jury did not award Ms. Carroll more than $2 million for groping her breasts through her clothing, wrongful as that might have been. There was no evidence at all of such behavior. Instead, the proof convincingly established, and the jury implicitly found, that Mr. Trump deliberately and forcibly penetrated Ms. Carroll's vagina with his fingers, causing immediate pain and long lasting emotional and psychological harm.
Trump's legal team is ignoring a "bulk of the evidence at trial" and ignores how the word rape is "used in everyday life," according to Kaplan.
This isn't the first legal defeat Trump has been handed this week. On Tuesday, he announced (via Truth Social) that he'd received a target letter from special counsel Jack Smith, concerning Trump's involvement in efforts to overturn the 2020 election. Smith's office has previously indicted Trump on willful retention of classified documents.

Carroll and Trump will face off for another defamation trial in January 2024, so this will not be the last ruling we get from Kaplan—and probably not the last legal dressing down Kaplan gives him, either.