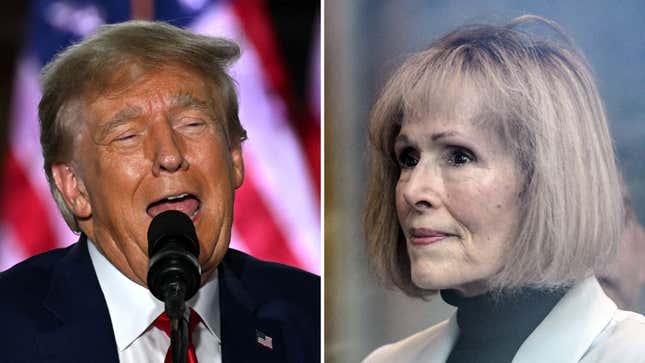 Less than three weeks ago, a judge ruled that E. Jean Carroll—the writer who sued Donald Trump for defamation and won in May—could amend her lawsuit to go for an even bigger payout after Trump disparaged her during a CNN town hall the day after the ruling was handed down. Now, the former president appears to be tired of losing and filed a countersuit against Carroll on Tuesday evening, also claiming defamation.
Ted Cruz Won't Commit to Pleasuring a Man to End World Hunger
Trump's suit in part hinges on some very specific wording. Though Carroll initially sued him for rape (as well as defamation), the jury found only that he sexually assaulted her. When Carroll appeared on CNN the morning after the verdict was read, an anchor asked what she felt when she heard that "the jury found that Trump did not rape you."
"I just immediately say in my own head, oh yes he did, oh yes he did," she replied.
Trump's countersuit cites this instance of Carroll saying "oh yes he did," arguing that it is defamation—because her revelation about her inner monologue did not reflect the nuances of a legal ruling.
In a statement to multiple media outlets, Carroll's lawyer Roberta Kaplan said: "Donald Trump again argues, contrary to both logic and fact, that he was exonerated by a jury that found that he sexually abused E Jean Carroll by forcibly inserting his fingers into her vagina," adding that his claims either do not apply given New York's statute of limitations, or that they will not "withstand a motion to dismiss."
Carroll was awarded $5 million in damages in May, but has since increased the amount she is seeking by $10 million after Trump claimed during the town hall—which, again, was broadcast on national TV the day after the ruling—that he'd never met her; accused her of calling her husband a racist epithet; and bizarrely said she named a pet "Vagina." Trump is also appealing the May ruling, so their legal battle isn't fading from the headlines any time soon.