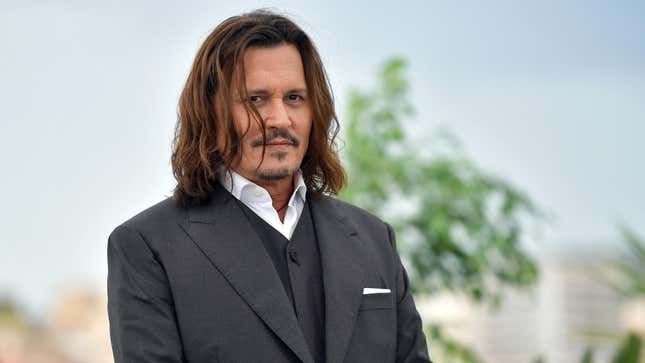 Has anyone ever received a warmer welcome at the Cannes Film Festival than men who've been accused of abuse? Roman Polanski, Harvey Weinstein, Woody Allen, Gerard Depardieu, and Luc Besson have all been greeted with a suspiciously enthusiastic oui oui in the event's 76-year history. Now, it seems Johnny Depp has officially joined le creep coterie.
The Johnny Depp and Amber Heard Defamation Trial Has Begun
Not only did Depp's new film, Jeanne du Barry—his first since his 2022 defamation trial—kick off the famed festival, but it also received a reported seven-minute standing ovation after it premiered on Tuesday. Granted, some... not-great films garnered similar reactions at the Venice Film Festival, but apparently, the praise was enough to make Depp shed a little tear (I know this only because I was forcibly subjected to the information given all eyes—and cameras—seem trained on him). However, he claimed he didn't care all about the hullabaloo.
"I never went anywhere," he responded to a question about his "comeback" during a press conference for the film. "People have seen or heard the word comeback exchanged by folks and using that as a catchphrase. 'He's making a comeback,' or 'He's made a comeback.'"
"I keep wondering about the word comeback because I didn't go anywhere. As a matter of fact, I live about 45 minutes away," Depp quipped. "So yeah, maybe people stopped calling out of whatever their fear was at the time. But no, I didn't go nowhere. I've been sitting around."
It's important to note that "sitting around" isn't exactly accurate. In fact, Depp has been working overtime on innumerable ventures including the most lucrative men's fragrance deal in history; hawking high-priced art of dead celebrities; modeling for Savage X Fenty; directing a forthcoming film; and finally, making and touring new music. But I see what he's getting at. How does one come back to an industry they never left?
"So 'comeback,' it's almost like I'm going to come out and do a tap dance or some kind of spectacular feet on the table and dance my best for you guys, and hope that you will approve," Depp continued. "The notion of something like that is a bizarre mystery."

He went on to address the Virginia defamation trial in which his ex-wife, Amber Heard, alleged a horrific range of abuse and not only lost but was pilloried online. Depp, however, claims he was the one who felt boycotted at the time and alluded to being forced to resign from a project—likely Fantastic Beasts.
"You'd have to not have a pulse at that point to feel like, 'No, none of this is happening. This is actually just a weird joke,'" Depp said. "Of course, when you're asked to resign from the film you're doing because of something that is merely a bunch of vowels and consonants floating in the air, yeah, you feel a bit boycotted."
"Do I feel boycotted now?" he continued. "No, not at all. But I don't feel boycotted by Hollywood because I don't think about it. I don't think about Hollywood. I don't have much further need for Hollywood myself." Yes, because people who don't have a further need for a workplace tend to keep showing up to stand on a red carpet.
Oh, and if you were wondering what he made of all of that trial coverage (I wasn't), Depp called it: "fantastically, horrifically written fiction." OK!
Meanwhile, Thierry Fremaux, Cannes Film Festival's chief, addressed the decision to make Depp's movie the festival opener on Monday: "I don't know about the image of Johnny Depp in the U.S," he told reporters. "To tell you the truth, in my life, I only have one rule, it's the freedom of thinking and the freedom of speech and acting within a legal framework."
Huh, it's almost like freedom of thinking and speech only benefits certain people...