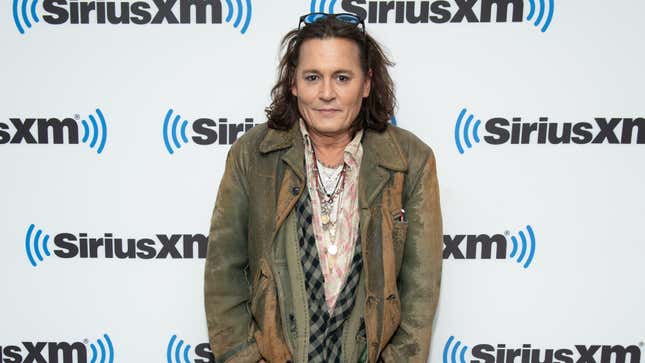 For the last eight years, Johnny Depp has been the face of the men's fragrance Dior Sauvage, and on Friday, Variety reported that the fashion house is "doubling down" on its working relationship with Depp—by offering the alleged domestic abuser the most lucrative men's fragrance deal in history.

The Johnny Depp and Amber Heard Defamation Trial Has Begun
Dior has reportedly offered Depp a three-year deal valued at upwards of $20 million to represent its fragrances. That's nearly double the $12 million deal Dior has with Robert Pattinson to be a spokesperson for Dior Homme, and more than double that of the $7 million deal between Chanel and Brad Pitt (also accused of domestic abuse) to promote Chanel No. 5.
Considering the extensive, disturbing allegations of rape and intimate partner violence against Depp by his ex-wife Amber Heard, the $20 million deal between Depp and Dior Sauvage stands in pretty sharp contrast with feminist posturing from other parts of the fashion house. Dior's creative director, Maria Grazia Chiuri, has made feminist messaging a touchstone of her collections in the last decade, rolling out "We Should All Be Feminists" T-shirts in 2016 and lighting up her runways with feminist language and buzzwords like "Patriarchy Kills Love," "Women Raise the Uprising," "We Are All Clitoridian Women," and, ironically, even "Consent." Just earlier this year, Chiuri spoke to The Guardian about dismantling the patriarchy and the "male gaze" in fashion, and the importance of "women supporting each other."
All of this, of course, has been fairly difficult to take seriously from a luxury fashion house with little grasp on the plight of everyday women and working people to begin with. But the feminist bravado that Chiuri has elevated as a priority under her creative direction is entirely undermined by the brand's male fragrance line honoring Depp with the biggest men's fragrance deal of all time.
Depp has been trying, rather successfully, to reenter the entertainment industry after his career faced setbacks in the years immediately after Heard's allegations surfaced. And Variety pointed out Friday that a major fashion house's support for him could "help pave the way for the actor's return to movies from the major studios," tacitly giving studios the all-clear to continue working with him.
Even as Depp won his defamation lawsuit against Heard last year after several weeks of grueling testimony and an extensive, deceitful public smear campaign against her, he still lost his defamation suit in the U.K. against a tabloid that called him a "wife-beater," as a judge found this to be an accurate characterization of him. Last spring during the U.S. trial, Heard produced a significant amount of damning evidence of Depp's violence toward her, only to be steamrolled by Depp's legal team via victim-blaming tactics—including its framing of Heard as Depp's abuser for fighting back against him.
In the face of its massive partnership with Depp, Dior's public celebration of "consent" and "women supporting each other" is exponentially more out-of-touch. Yet, here Depp is, the face of Dior Sauvage, his pockets amply lined with $20 million in cold, hard cash from the "feminist" fashion house—and all after taking his ex-wife to court and forcing her to pay him $10 million in compensatory damages for coming forward about his alleged abuse.
Among the many questions Dior's partnership with Depp raises, I do have to ask: What is the allure of smelling like an alleged abuser, visibly rotting teeth and all? I, personally, am far more likely to be persuaded to purchase Dior perfumes by a Robert Pattinson ad campaign than one centered around a man who allegedly raped his ex-wife with a liquor bottle and violently beat her on a private plane. But that's just me.