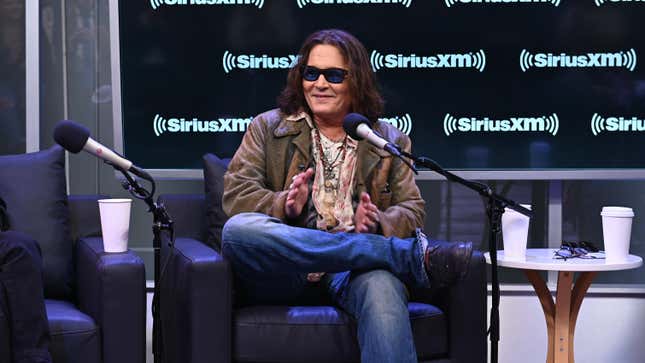 Stop the presses: Johnny Depp's newest art collection is here. That's right, the actor, musician, artist and (alleged) abuser set is showing his newest range of celebrity portraits at Castle Fine Art gallery in London.
The Johnny Depp and Amber Heard Defamation Trial Has Begun
Titled "Friends & Heroes II," the collection features four paintings of late famous men: musician Bob Marley, actors Heath Ledger and River Phoenix, and writer Hunter S. Thompson. Curious choices, no?
A description of the series called each portrait an "intimate reflection of their character in Johnny's eyes; a portrayal of how they have revealed themselves to him, either personally or via their art." I'm no critic but they all just kind of look like Andy Warhol's throwaways if you ask me. Ironically, the gallery deems the collection "pop art with feeling." Huh.
"I've always used art to express my feelings and to reflect on those who matter most to me, like my family, friends and people I admire," reads a Depp quote in the gallery's brochure. "My paintings surround my life, but I kept them to myself and limited myself. No one should ever limit themselves."

Depp certainly has not limited himself since his defamation trial against his ex-wife, Amber Heard, last year. In fact, his career is booming. Not only did his debut at Castle Fine Art with the first "Friends & Heroes" show (which featured portraits of Al Pacino, Elizabeth Taylor, Bob Dylan and Keith Richards) culminate in a $3.6 million payout for Depp, but he's also recently raked in millions as the face of Dior; released a new album; and, of course, returned to acting and directing. Oh, and he walked through a forest for a Savage X Fenty show.

Now, before you whip out your wallet, the individual prints (which went for $4,509) have already sold out, per People, but the sets of four (which total $17,536 sans frames) are, somehow, still available for purchase.
The redemption tour continues...