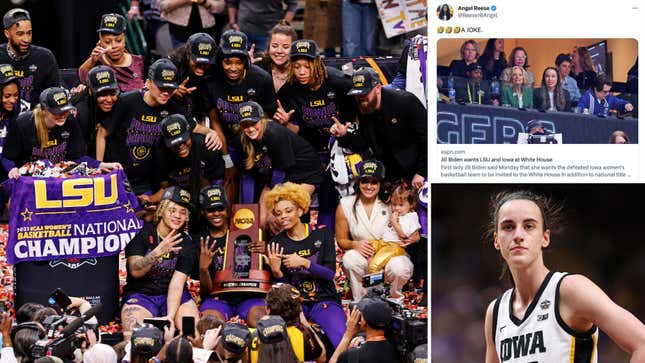 On Monday, the day after the Louisiana State University women's basketball team's won its first NCAA championship, First Lady Jill Biden suggested it was best to give one of the mildest of prizes given to champion athletes—a visit to the White House—to the winners (LSU) and the runner-ups (Iowa). By Tuesday morning Biden's press secretary was forced to walk it back in particularly embarrassing fashion: a 6 a.m. tweet.
GOP Congressman Spent His Sunday Daring Biden to 'Come and Get' His Guns
This is an unforced error for an administration that's publicly committed itself to enacting policies that help Black Americans and promoting Black women, who make up a majority of the LSU women's basketball roster, but let's run it back to see what landed the First Lady in such an idiotic situation.

At an event in Denver, Biden gushed about attending the women's national title game in Dallas the night before, tickets for which were pricier than the sold-out Taylor Swift show across town. "Last night, I attended the NCAA women's basketball championship. Congratulations to both teams! So I know we'll have the champions come to the White House, we always do. So, we hope LSU will come but, you know, I'm going to tell Joe I think Iowa should come, too, because they played such a good game," she said, which was received by mild boos, according to a video from CBS Mornings. "Winners and losers, that's sportsmanship!"
Is it though? I can't believe I'm holding up a White House visit as an important part of sports culture, but it is something we only give to the winners! That line in the sand feels important. I can't believe this puts me on the same side as these three loser state senators from North Carolina who want to ban participation trophies from school sports, but your allies sometimes come from the most unlikely places.
LSU star Angel Reese weighed in and went viral: 
After the press seized on the first lady's inane idea, her staff quickly realized they needed to walk it back. Press Secretary Vanessa Valdivia chalked the comment up to over-excitement. Sure! "The First Lady loved watching the NCAA women's basketball championship game alongside young student athletes and admires how far women have advanced in sports since the passing of Title IX," Valdivia said. "Her comments in Colorado were intended to applaud the historic game and all women athletes. She looks forward to celebrating the LSU Tigers on their championship win at the White House."
Her husband has been in politics for decades, which means she's been proximate to politics for nearly as long. Yet Biden didn't immediately grasp the optics of making a majority Black team share a prize (however silly it may be) with a team led by a white star. She is no dummy, but this is dummy behavior!
The LSU players are in the spotlight right now, after drawing a record-breaking 9.9 million viewers on average during their game's broadcast. At a press conference following the match, Reese herself addressed the racism she's experienced as an elite athlete on one of the sport's biggest stages. "All year, I was critiqued for who I was. I don't fit the narrative," she said. "I don't fit the box that y'all want me to be in. I'm too hood. I'm too ghetto. Y'all told me that all year. But when other people do it, and y'all don't say nothing. So this is for the girls that look like me."
Rewarding that self-love is important—perhaps even more important than keeping the silliest tradition in college sports alive: Getting to meet a very old and powerful man if you prove you're the best.