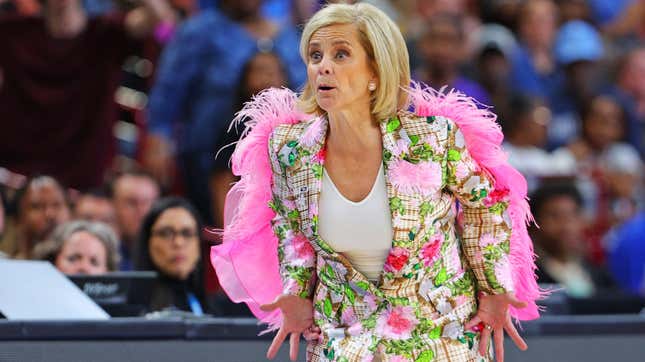 "We always have to look like ladies," Louisiana State University women's basketball coach Kim Mulkey once said. "Sometimes it's a pain, but if you want to be a national champion, you have to look like one."
What is Going On With Deshaun Watson's NFL Suspension?
And look like a lady she did on Friday during Sweet 16 round of the NCAA Women's Tournament at Bon Secours Wellness Arena in Greenville, South Carolina. It didn't go as well for her this time, though, as her flamboyant, hot-pink-feather-adorned suit became the butt of many a joke on the internet (mostly) about Mulkey's problematic history with the LGBTQ+ community.
In addition to Mulkin's very public opposition to COVID testing and masks, many a think piece has been written about her subtle (and sometimes unsubtle) homophobia. She notoriously refused to defend WNBA star Brittney Griner, who played for her at Baylor from 2009-2013 and helped cement her reputation as a winning coach, while Griner was being held as a political prisoner in Russia. When a reporter asked for Mulkey's thoughts on Griner's situation"—saying, specifically, "I don't think I've seen anything from you on that"—Mulkey coldly responded, "And you won't."
Before that, Mulkey had long insisted that LGBTQ players remain in the closet. From Outsports:
In the summer of 2012, for example, Mulkey spoke to Outsports co-founder Cyd Zeigler, who asked her a simple question: "Have you ever had a gay player on your team?"
Her response: "Don't ask me that. I don't ask that. I don't think it's anybody's business. Whoever you are. I don't care to know that."
The following year, former ESPN writer Kate Fagan revealed that Mulkey had personally called the network and tried to get her fired for detailing how she'd urged Griner to stay in the closet during the player's four years at Baylor.
So while I am generally not inclined to mock women's clothing choices or revel in other people's mockery of said choices—with the exception of Kyrsten Sinema, obviously—I think I'm going to take a page from Mulkey's book and simply decline to defend her in this moment.