Kanye West cut ties with streaming service Tidal, seemingly over $20 million and other financial disputes over what he is owed per his contract. But like all good feuds, the real conflict is personal.
TMZ has two reports on Kanye's relationship with Jay-Z. Lyrics on 4:44 mention money, but they also accuse Kanye of stabbing Jay-Z in the back by going on a rant at one of his concerts about Jay-Z's failure as a friend, mentioning Beyoncé too. It seemed pretty wild at the time, and he was admitted to the hospital for mental health treatment not long after. Jay-Z is reportedly not cutting him any slack:
As one Kanye source put it, "Kanye was days away from going to a psych ward with some really serious mental issues. We get why he [Jay] was upset, but give Kanye a break." We're told Kanye had no idea Jay would go after him on 4:44 and when he heard it he was "shocked."
The second post on this drama clarifies that the $20 million "was NOT a gift," it was an advance from Roc Nation to cover expenses for Kanye's very expensive tour. So, Jay-Z's lyrics on 4:44 that say, "You gave him 20 million without thinkin' / He gave you 20 minutes on stage, fuck was he thinkin'?" are a bit misleading. On the other hand, $20 million is a lot of money, and the back and forth disputes about who owes who what will likely go on for a long time, destroying a relationship that sounds like it was already in tatters along the way.
Anyway, Kanye and family have new friends now:
G/O Media may get a commission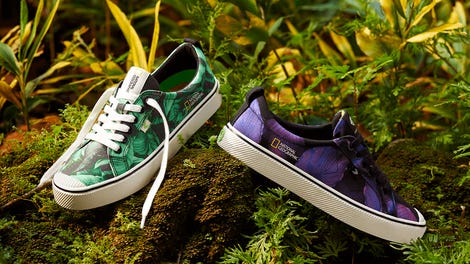 New New New
Cariuma + National Geographic
[TMZ]
---
It's been four years since Pink performed, and she kicked off her concert at Summerfest in Milwaukee by getting trapped in an elevator. Don't worry, she got out:
---
Here's Venus Williams getting upset while talking about the car accident:
---
Natalie Pasdar has filed for divorce. [TMZ]
Mayim Bialik has a cat. [US Magazine]
Twitter is too mean for Ed Sheeran. [People]
Leslie Jones is single, which is a travesty. [Just Jared]