Kanye West has cut ties with the streaming service Tidal over a $20 million dispute with the company helmed by Jay-Z, TMZ reports. According to the outlet:

Sources connected to Tidal tell TMZ, Kanye has been unhappy with the company for a long time. We're told Kanye has complained the company owes him money — more than $3 million.

Our sources say a month ago Kanye's lawyer sent a letter to Tidal, saying the company was in breach and the contract was terminated.Over the next 2 weeks lawyers for both sides tried to resolve the conflict but failed. We're told 2 weeks ago Kanye's lawyer fired off a second letter declaring again the contract was over.
The decision predates Jay Z's album, 4:44, on which he raps, "You gave him 20 million without thinkin' / He gave you 20 minutes on stage, fuck was he thinkin'?," a probable allusion to Tidal's product launch in March 2015 that was part of a longer jab on "Kill Jay Z."
The dispute has another prong, as well: The release of West's Saint Pablo resulted in 1.5 million new Tidal subscribers, for which West was supposed to get a bonus but hasn't. He also alleges that Tidal has failed to reimburse him for music videos.
Kanye West may be objectively bananas, but these sound like totally reasonable complaints that would piss off anyone. Jay's camp contends that Kanye failed to deliver what he promised, including a number of the aforementioned music videos, which doesn't sound that improbable, either.
In response to Kanye's departure, Tidal sent off a letter threatening to sue if he tried to go to another streaming service, which will certainly lead Kanye to counter-sue.

G/O Media may get a commission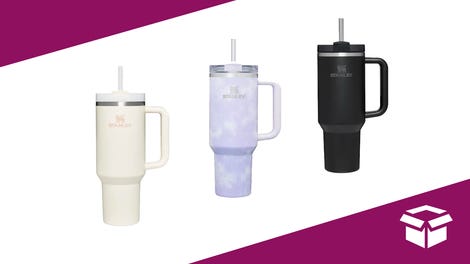 Up to 45% off
Stanley Cup Sale
Long story short, we'll be hearing about this beef for a long time.
[TMZ]
---
While you're playing cornhole and eating a hot dog, Mariah Carey is drifting around the Dead Sea in a leopard print top and a full complement of jewels.

Here she comes, just as the bible foretold.
---
Gwyneth Paltrow built a giant, obnoxious house in Montecito and now everyone hates her even more. [Page Six]

Quentin Tarantino is engaged. [People]
Kris Jenner and Caitlin Jenner have put their personal problems aside in pursuit of a common goal: Making shit tons of money. [Radar Online]
Amanda Seyfried and her family are cute. [People]
Mischa Barton testified in her revenge porn trial on Friday. [E! Online]