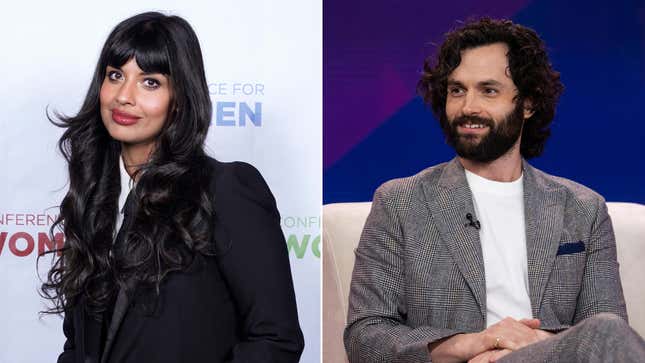 I am constantly learning new facts about Jameela Jamil from Jameela Jamil, including—years after her numerous revelations about being chased into the streets by one or multiple swarms of bees—that she doesn't film sex scenes and passed up a potential role in You Season 4 because of this rule.

Jennifer Hudson Achieves EGOT Status, is True American Idol
In an episode on Penn Badgley's Podcrushed podcast last week, Jamil told the You star all about her experience and her reaction to Badgley's own relatively recent comments about setting boundaries around intimate scenes this season. "I don't do sex scenes. In fact, I was supposed to audition for the most recent season of your show," Jamil told Badgley. "My character was supposed to be quite sexy, and I pulled out of the audition, because I am so shy about anything sexy that I can't."
She continued, "And then you fucking came out and were like, 'Yeah, I'm not doing sex scenes anymore,' and I was like, 'I didn't even know that was a boundary that we could draw.' But then I was like, I should have gone and done the fucking show." Jamil is referring to Badgley's viral comments in February in which he shared that he'd initially asked You's showrunner to give him zero sex scenes this season, then ultimately reached a compromise by filming tamer, dim-lit, and very un-intimate intimate scenes.
"Fidelity in every relationship, and especially my marriage, is really important to me," Badgley said on his podcast in February. "It just got to a point where I don't want to do [sex scenes]." In an interview with Variety in the same month, he said of love scenes, "It's not a place where I've blurred lines. There's almost nothing I could say with more consecration. That aspect of Hollywood has always been very disturbing to me—and that aspect of the job, that mercurial boundary—has always been something that I actually don't want to play with at all."
In March, Badgley told GQ he thought the comments were "blown out of proportion" on social media. He said he was criticizing "the culture inherent to the production of all movies, but particularly those scenes" and the entertainment industry's "history of flagrant exploitation and abuse."
I certainly think it's interesting that Jamil, who cited her history of experiencing sexual violence as a reason for her discomfort with intimacy scenes and wearing revealing clothing, told Badgley she hadn't realized that was a boundary that actors could draw. Earlier this year, I spoke to intimacy coordinators (people who work on sets to help actors film sex scenes that comply with their boundaries) who said that many especially female actors have felt that if they didn't unconditionally agree to any and all sex scenes, they would lose roles.
Badgley initially took a lot of heat for his comments, including from critics who suggested he was in the wrong for sexualizing the process of filming sex scenes. But at least in Jamil's case, it seems his comments are teaching other actors that they should be able to set boundaries around this aspect of their work, and if they're being denied that agency, it's a problem.