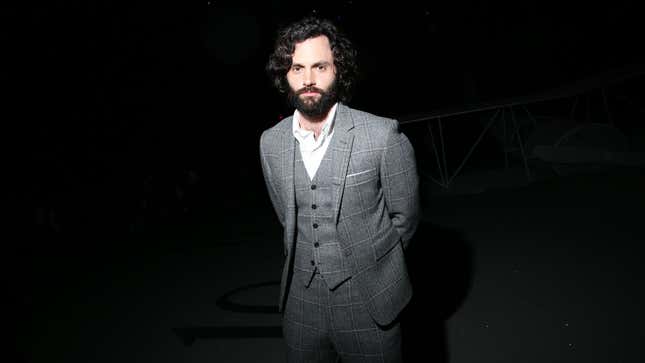 As you'll recall, last month, Penn Badgley disclosed on his podcast, as well as in various interviews, that he'd decided against filming graphic sex scenes for the fourth season of You—and the internet had a totally normal reaction. Just kidding!

Shortly after Badgley's personal disclosure, in which he praised the show for respectfully accommodating him, the internet descended into its usual outrage fest like clockwork, accusing Badgley of sexualizing his co-stars and even cheating on his wife, or at least thinking about it.
In a new interview with GQ UK published Wednesday, Badgley addressed some of that backlash, telling the magazine his comments were "blown out of proportion" and pointing out that his request to forego sex scenes didn't even "change the trajectory of [You's fourth season] at all." If anything, his boundary-setting was well-timed to Joe Goldberg's character trajectory, as the resident anti-hero took pains to avoid becoming a star-crossed lover yet again. Joe, Badgley said, "was naturally ready to not be in that position anymore."
Badgley explained in his podcast last month that his decision stemmed from a desire to pursue other roles beyond romantic leads, as well as his marriage: "Fidelity in every relationship, and especially my marriage, is really important to me," he said. "It just got to a point where I don't want to do that." In an interview with Variety, he said of love scenes, "It's not a place where I've blurred lines. There's almost nothing I could say with more consecration. That aspect of Hollywood has always been very disturbing to me—and that aspect of the job, that mercurial boundary—has always been something that I actually don't want to play with at all."
G/O Media may get a commission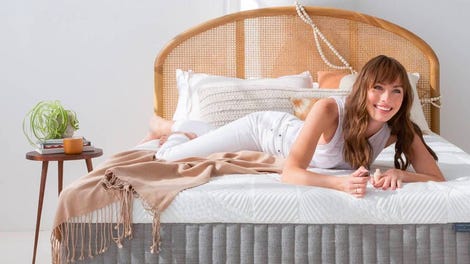 Sleep Sale
Sleep Sale - Brentwood Home
And in his interview with GQ, Badgley further clarified that he wasn't just referencing his own experiences—his comments were intended to speak to "the culture inherent to the production of all movies, but particularly those scenes," and the entertainment industry's "history of flagrant exploitation and abuse."
Last month, Jezebel spoke to intimacy coordinators about their relatively new role in the industry and the problematic history of young actors losing roles if they spoke up about being uncomfortable with sex scenes. "There was a lot of this culture of 'if you won't do it, there's 100 other people who will,' this pressure to say yes constantly in order to stay relevant and in the project," Jessica Steinrock, an intimacy coordinator and CEO of Intimacy Directors & Coordinators, said. Badgley's invocation of his marriage to contextualize his aversion to sex scenes also isn't rare. Steinrock noted many actors who are in relationships have different agreements with their partners, and whatever the reason for why they are or aren't comfortable performing certain acts, she said, is ultimately irrelevant.

As I previously wrote, I, personally, find Badgley's comments fairly understandable; he simply set a boundary for himself, which, contrary to his internet critics, hardly sounds unprofessional. He also isn't the first actor to express reservations about filming intimate scenes, even though he's among the first highly visible male actors to do so. I'd argue that, if anything, Badgley sharing his experience being uncomfortable with sex scenes, voicing this to his team, and finding solutions he was comfortable with, can open the door for positive cultural change.