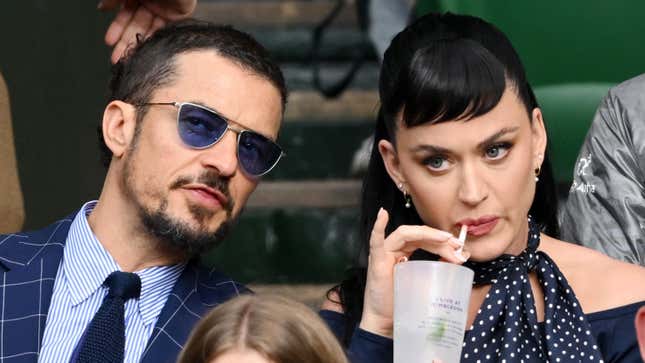 If you or a loved one are over the age of 80 years old, please be aware that you are at heightened risk of being removed from your home by Katy Perry. Perry and fiancé Orlando Bloom are currently in a legal battle—Perry's second in the last decade—after trying to push an elderly person out of their home. Again.
Carl Westcott, an 83-year-old veteran, is claiming that he was under the influence of pain medications, following an intensive back surgery, when he signed the contract to sell his $15 million Montecito, California home to Perry and Bloom in July 2020. In fact, Westcott had just purchased the home barely two months before in May 2020 and was planning to live there "for the rest of his life," according to court documents. It wasn't even on the market when he went into surgery.
About a week after his surgery, once the effects of the opiates wore off, he reached out to Berkshire Hathaway to explain that he "lacked the mental capacity to understand the nature and probable consequences of the contract" and intended to remain in his house. (He also said that he suffers from Huntington's disease, a fatal brain condition.) According to the lawsuit, Westcott wrote:
"I've decided to not sell my home. I apologize for any inconvenience this may cause you. I'm 80 years old and had major surgery that lasted 6 hours—6 days prior to signing the contract. I was under the influence of heavy pain medication. Again, I apologize for any inconvenience this may cause you."
Talk about changing his mind like "a girl changes clothes" (a little high and stressed out, which is completely understandable.) Hours later, he received a letter from Bloom and Perry saying, "we absolutely love your home." Westcott responded basically saying, "uhm didn't you see what I just sent you? I'm not contributing to your California real estate empire." (Specifically, he wrote that he "gave it his deepest consideration, but that he is in the final few years of his life and he cannot sell his home.")
Doing away with niceties, the couple's lawyer followed up: "Mr. Bloom and Ms. Hudson [ed note: Perry's legal last name] are not willing to walk away from purchasing Mr. Westcott's home and he is obligated to complete the sale." (If only Perry commanded that sort of authority with #LeftShark...) Now, three years later, the suit is finally going to a non-jury trial on August 21.

It's certainly strange that an estate of that size (7,100 square feet and six bathrooms) and worth was able to go on the market and be sold in a matter of weeks without anyone representing Westcott. What's stranger is, as I mentioned earlier, this is not Perry's first foray into elderly relocation! It's very, "Yeah, I think we broke the law, always say we're gonna stop-op, oh-whoa/ But it's Friday night/ Do it all again."

In 2014, the "California Girl" purchased a convent from the Archdiocese of Los Angeles for $14.5 million (notably in cash btw.) But two nuns who lived on the property claimed they were the rightful owners (not the Archdiocese) and that they'd planned to sell it to hotelier Diana Hollister.

In 2018, in an appeal to the court's ruling that the Archdiocese was legally allowed to sell to Perry, one of the resident nuns, Sister Catherine Rose Holtzman, who'd recently asked for the Vatican's help in fighting the singer, collapsed in the courtroom and died.
I just feel if I were Perry, I would avoid buying houses from or from underneath the elderly at this point. Buy something off a Gen-Z TikTok star! Go for a new build! Or, you know, be satisfied with one of your existing properties you already own.