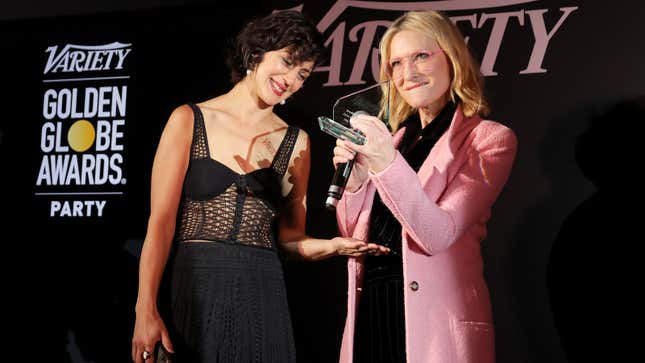 I cannot stop watching the clip below. Picture it: Cannes, at some party. (OK, specifically the Variety and Golden Globes Breakthrough Artists Party.) Cate Blanchett onstage in a pink coat and aviator glasses in a different shade of pink. Her shoes are off. Her speaking voice is lightly seasoned with her native Australia (as usual) as she honors Iranian actor Zahra Amir Ebrahimi—who won last year's Cannes Film Festival Award for Best Actress for her riveting work in Holy Spider—with a breakthrough artist award. The trophy is pointed on top, like a Cable Ace award, actually. Before she hands it to Ebrahimi, Blanchett proclaims, "This is to stab everyone who stands in the way of women's rights. Up the vajayjay!"
Jennifer Hudson Achieves EGOT Status, is True American Idol
UP THE VAJAYJAY!!!
What in the world. Seems like one would do well to take their artist breakthrough award and poke it up the asses of the non-vajayjay-having men, but what do I know? I'm a mere mortal, and besides, any kind of linguistic reasoning would have robbed us of Cate Blanchett, on stage and in front of cameras, shouting, "UP THE VAJAYJAY!!!"
Before her VAJAYJAY moment, Blanchett introduced Ebrahimi by referring to her as "undeniably one of the world's greatest actors" and lauded her for "using her platform to give voice to women who do not have a voice." Blanchett then made a display of taking off her heels "in honor of the women of Iran and the extraordinary Zahra Amir Ebrahimi."
According to Variety, an "emotional" Ebrahimi's speech made reference to Iran's "executing [of] innocent people." Additionally: "I always thought being an actress was a paradox: serving the emotions of your own and being a flag or mirror or light. This award celebrates this paradox."
Blanchett appears in The New Boy, which premiered at Cannes this year to strong reviews.
---