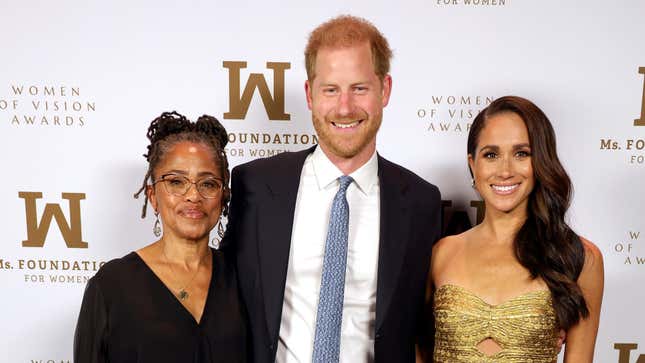 Meghan, Duchess of Sussex; her husband, Prince Harry, Duke of Sussex; and her mother Doria Ragland were in a more than two-hour "near catastrophic car chase" on Tuesday night in New York City, his spokesperson said.
"Last night, the Duke and Duchess of Sussex and Ms. Ragland were involved in a near catastrophic car chase at the hands of a ring of highly aggressive paparazzi," the representative said in a statement published Wednesday in Reuters. "This relentless pursuit, lasting over two hours, resulted in multiple near collisions involving other drivers on the road, pedestrians and two NYPD [New York Police Department] officers."
The group tailed the couple and Ragland on cars, scooters, and motorcycles after the three left the Women of Vision Awards at the Ziegfeld Ballroom in Manhattan around 10 p.m. The couple was staying at a private residence and didn't want that destination to be known.
"I have never seen, experienced anything like this. What we were dealing with was very chaotic. There were about a dozen vehicles: cars, scooters and bicycles," Chris Sanchez, a member of the Sussex security team, told CNN. "The public were in jeopardy at several points. It could have been fatal. They were jumping curbs and red lights. At one point they blocked the limousine and started taking pictures until we were able to get out."
Paparazzi riding smaller vehicles like scooters and bikes were riding on the sidewalks, CNN reported. "There were a lot of close calls including short stops between front and backs of cars – but there was no car accident," a law enforcement source told CNN.
Police sources also told NBC News that the cars were "evading pursuing photographers during a 75-minute chase up and down the Franklin D. Roosevelt East River Drive." Eventually, NBC reported, Meghan, Harry, and Doria were rushed into the 19th Precinct Station House on East 67th Street in Manhattan, between Lexington and Third avenues.

A yellow cab picked up the trio and a security guard outside the precinct. Sukhcharn "Sunny" Singh told the Washington Post that they were still pursued by a black Honda Accord and a gray Honda CR-V. "They kept following us and were coming next to the car," Singh told the paper. "They took pictures as we stopped and were filming us."
Singh's journey with the royals only lasted about 10 minutes, he said. The security guard was worried about the couple's exposure and asked to be returned to the precinct, so Singh drove them back there.
"I don't think I would call it a chase," Singh said about his short journey. "I never felt like I was in danger. It wasn't like a car chase in a movie. They were quiet and seemed scared but it's New York — it's safe."
New York Mayor Eric Adams said city cops could have been injured. "New York City's different from a small town somewhere," Adams said. "You shouldn't be speeding anywhere, but this is a densely populated city."
NYPD released the following statement on Wednesday, confirming that there were no collisions, nor any arrests made:
On Wednesday [editor's note: it happened on Tuesday] evening, May 16, the NYPD assisted the private security team protecting the Duke and Duchess of Sussex. There were numerous photographers that made their transport challenging. The Duke and Duchess of Sussex arrived at their destination and there were no reported collisions, summonses, injuries, or arrests in regard.
Relentless and intrusive paparazzi pursuits are, of course, also what preceded the death of Harry's mother, Princess Diana. In August 1997, Diana died from injuries she sustained from a car crash when her driver was speeding away from paparazzi in Paris. Her partner, Dodi Fayed, and driver Henri Paul died in the crash as well. Harry was 12 when his mother died and has cited the tragedy as part of his motivation for holding the media accountable for its recklessness.
This is not the only scary incident the couple has dealt with this week. TMZ reported on Wednesday that the couple's security team in Montecito, California, detained a 29-year-old at the mansion entrance who was later arrested on suspicion of misdemeanor stalking and released on bail. In December 2020, another man was arrested on suspicion of trespassing on the property.
Harry and Meghan's spokesperson said that the couple knows that "being a public figure comes with a level of interest from the public, it should never come at the cost of anyone's safety."
The spokesperson suggested that the images should not be bought or shared, considering they almost led to injury and possible death of people in and outside of the vehicle. "Dissemination of these images, given the ways in which they were obtained, encourages a highly intrusive practice that is dangerous to all in involved," the statement said.