As it turns out, the LA County courts absurdly do not recognize my judgeship and time serving this illustrious court. However, as soon as I started opening my mouth, neither the plaintiff nor the defendant wanted anything to do with me, so here we are. The scales of justice, folks!
In this week's Shade Court, sportsmen try it again, Elizabeth Banks gets ahead of herself and a double dose of Katy Perry.
Shade Court Docket #2017JZ000072
The Case: Ahead of Game 5 of the NBA Finals, Jeopardy featured the following question:
"After a loss to the Warriors in the 2016 Western Finals, this Thunder stud didn't beat 'em, he joined 'em."
G/O Media may get a commission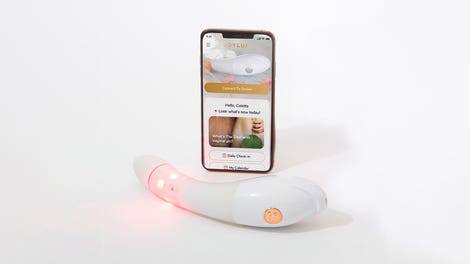 $50 Off
Joylux vFit Gold Device
The answer was, of course, Kevin Durant. That's it. That's literally all we're talking about here.
The Defendant: SB Nation, Mercury News
The Evidence:
The Deliberation: Do you hear that dull thud, thud thud? That's the sound of the blood vessels in my brain working overtime.
So they're saying that Jeopardy is throwing shade at Kevin Durant by accurately noting that when he could not beat the Golden State Warriors (he could not) he joined the team (he did).
To their discredit, SB Nation takes it a step further and just goes off to contradict themselves because why not?
This is more than a little shady, just to remind any OKC fans of their loss of not only the conference finals but also one of their stars.
Well you just said Jeopardy was throwing shade at Kevin Durant, so which is it???
Quick tangent: You know when a toddler starts rambling to you and you look at them and they look at you and you have no idea what they just said? But for a moment, you sit there trying to figure out what "gimf loog woopy" means? Then you come to your senses and you say, "Hey wait, why am I, the adult with fully developed language skills, trying to understand what this toddler is saying? All I'm going to do is wrack my brain for no good reason because there's almost no way I'm going to figure out what those nonsense words mean. Besides, it sort of doesn't matter because aside from pointing out which area of the rug they peed on or how much more peanut butter they want, this toddler most likely isn't trying to impart any particularly pertinent knowledge or information so I'm just going to give them a kiss an move on."
That is me to the defendants minus the kiss.
The Ruling: Not shade you silly sportsmen
Shade Court Docket #2017JZ000073
The Case: Elizabeth Banks put her foot in her mouth during a recent speech when she proclaimed that Steven Spielberg has "never made a movie with a female lead."
The twittersphere and at least on attendee at the event were quick to remind Banks that Spielberg did, in fact, direct The Color Purple, which starred a couple young upstarts named Oprah Winfrey and Whoopi Goldberg.
The Defendant: Decider
The Evidence:
The Deliberation: Do I even need to do this? Do I even have to say anything? Is any response necessary? Are jalapeño poppers delicious? Is highlighter one of the best things to ever happen to me? Is this a serious question? Is there any possible way on any planet, in any universe, using any definition of right that this could be shade? Would I blindly follow Rihanna anywhere? Do I spend too much money on Trader Joe's wine? Will they ever stop making a mockery of shade? Is calling someone out, by their name, at a public event at all subtle or slick or even particularly clever? Does Donald Trump need to be impeached? Do I need to get more Vitamin D? Are they seriously, seriously, seriously suggesting that this was shade?
I'll let you answer.
The Ruling: Not shade
Shade Court Docket #2017JZ000074
The Case: Katy Perry spent the last week oversharing via a live stream to make up for the fact that her new album isn't very good. That ploy included inviting James Corden over and letting him quiz her on the sexual prowess of her famous ex-boyfriends. Corden asked her to rank who was best at doing sex out of John Mayer, Diplo and Orlando Bloom. As I would have predicted, she ranked Diplo last.
When Diplo got wind of the news, he responded:
The Defendant: The Daily Mail, PopCrush, Perez Hilton
The Evidence:
The Deliberation: This is a bit confusing because some are saying Diplo shaded Katy while others say Katy shaded Diplo and I really hope we're able print out the entire internet and put it in a vault so one day the aliens can fully grasp how much we deserved our demise.
To be honest, I'm completely sure what Diplo is trying to say. You don't remember because you've slept with so many other women? Because it was boring? Because your afternoon hallucinogens had already hit?
I suppose there's a chance his tweet alludes to some secret information only the two of them know, in which case, it could be shade. But this court can only work off hard evidence or frequently reported rumors. Also, how are we still talking about this?
The Ruling: Not shade
Shade Court Docket #2017JZ000075
The Case: Now, I don't usually like to try cases that are more than a week old, but I shall make an exception because I'm honestly worried I'll never hear the end of it if I don't.
Katy Perry's new album was set to be released on June 9. The day before, Taylor Swift announced that after pulling her catalog from most streaming services, she would celebrate a Recording Industry Association of America milestone by making all her music available on all streaming services for free. The music would hit starting midnight that night—exactly when Perry's album would be dropping.
The Defendant: Perez Hilton, Mashable, Oxygen, et al
The Evidence:
The Deliberation: I'm afraid I'm going to have to start with the buzzkill. Sources say the timing of Taylor's stunt had nothing to do with Katy. Rather, it coincided with reaching 100 million certified units, as well as her album 1989 hitting 10 million units sold.
However, we do know that Taylor Swift and Katy Perry almost certainly still hate each other—despite Katy rather unconvincing apology. Plus, we know that Taylor is cunning and petty and she plays the long game. I'm going to guess that this was a two-birds-with-one-stone situation.
I have to believe that if her hitting that milestone coincided with, say, the release of Lorde's new album, Taylor would have found a way to shuffle things around. It's not like it's her birthday or some date people would remember and wonder why she was celebrating it a week later.
Based on my own heightened intuition and much too much time spent reading about the drama between these two women, I'm guessing Taylor's team brought this to the table. At some point, someone mentioned that Katy's new album would be released the same day and did Taylor have a problem with that? Taylor likely took fake and wholly dramatic sip of some $12 beverage, pursed her lips, trying to stifle a grin, and said, "Oh well, I mean, if that's what everyone has already decided then I guess we have to do it then. Oh well!"
Maybe this wasn't originally planned as shade towards Katy, but even as a byproduct, it lands.
The Ruling: Shade